Straker


David Poulson


Colonel Stewart
Brass Target 1978


Felix Dobell
The Girls of Slender Means
BBC2 May 1975


American astronaut
The Mouse on the Moon - 1963


Klaus Hergersheimer
Diamonds Are Forever - 1971


Moon shuttle Pilot
2001: A Space Odyssey - 1968


Moon shuttle Pilot


Colonel John Hunter
Protectors
The First Circle March 1973


John Hunter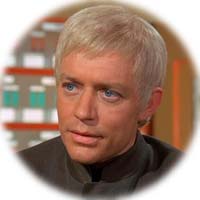 Ed Bishop
Personal
Born in Brooklyn, New York, 11 June 1932.
Light brown hair, blue eyes, 6 ft tall.
Born George Victor Bishop, he changed his name to Edward (then Ed) when he became a professional actor, as there was already an actor named George Bishop.
Raised in Peaksill New York through high school.
Bishop served in the US Army from 8 October 1952 to 24 September 1954, working as a disk jockey with the Armed Forces Radio at St. Johns in Newfoundland. His rank was Corporal at the time of discharge.
He had planned for a career in Business Administration and went back to school at Boston University. After deciding he didn't like Business Administration, he enrolled in Boston University Theater Division (1956).
Graduated in 1960 with a Bachelor of Fine Arts Degree and won a scholarship to study drama at London Academy of Music and Dramatic Art (LAMDA) in 1960.
Started his professional acting career in July 1961.
He was a well known convention attendee and attended FANDERSON 81, 82, 84, 90, 91, UFORIA (88), UFORIA II (89), SPACE CITY (93), ACTION 93, Phil and Eds Excellent Con (94), DANGER ZONE (95) conventions and others.
Died June 8, 2005
Personal Life
A political liberal, Bishop was also politically active. He showed his disapproval of the military-industrial complex in 1993 in a notable act of political theater: he gatecrashed an arms-trade fair held in Aldershot, Hampshire while dressed to resemble Augusto Pinochet. In March 2005, he participated in the British protest against the Iraq war.
Ed Bishop was married three times:
Jane Thwaites, 1955; (divorced)
Hilary Preen, 1962; 4 children - a son and 3 daughters (divorced 1996)
Jane Skinner, 2001 (widow)
Bishop married economist Hillary Preen at Caxton Hall in 1962 having met her in Trafalgar Square while he was visiting places of interest in London. They had 4 children - Daniel, Georgina, Jessica, and Serina.
He met his third wife, Jane Skinner, during the Aldershot protest against the arms trade.
Bishop lost his 12 year battle to leukemia on June 8 2005, five days after the death of one of his UFO co-stars, Michael Billington. He is buried in the churchyard of the Parish Church of Saint Lawrence in Napton, Warwickshire. His grey sandstone tombstone has a peace symbol prominently engraved on it and its design is very similar to the one situated two meters on the right, which marks the grave of his son Daniel (16 May 1967 - 18 January 1988), who was killed in a car accident in Cumbria. He is survived by his widow and three daughters from his second marriage: Georgina, Jessica and Serina.
Bishop's epitaph reads: From This Valley They Say You Are Going. We Shall Miss Your Bright Eyes And Your Smile.
The epitaph comes from a song he learned for the play Strike Gently, Away From the Body. Photos of his gravesite and headstone, as well as virtual flowers can be found at Ed Bishop (1932-2005) - Find a Grave Memorial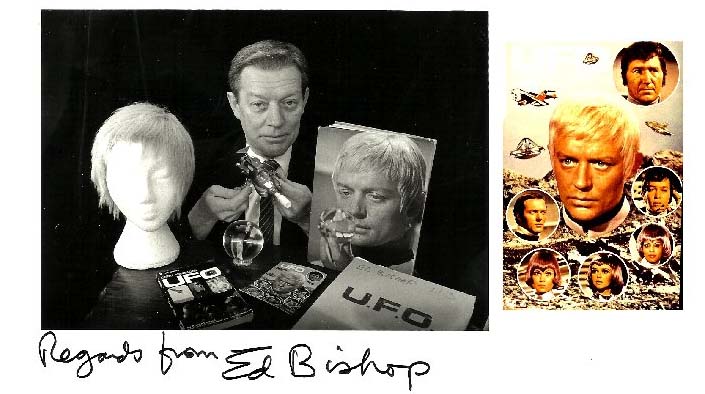 Articles
Interviews
Photo Albums
Credits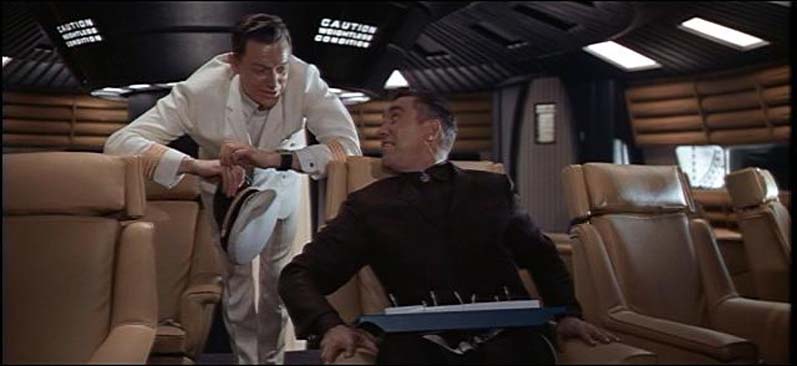 Film
The American (1998, TV Movies, Gen. Packard)
Battle Beneath the Earth (1967, Lt. Cmdr. Vance Cassidy)
The Bedford Incident (1965, Lieutenant Hacker, small part)
Born to Ride (1991, Dr. Tate, good movie)
Brass Target (1978, Colonel Elton F. Stewart)
The Bunny Caper (aka The Games Girls Play)
(aka Sex Play) (1973, American politician)
Calliope (1993)
The Devil's Web
Diamonds Are Forever (1971, Klaus Hergersheimer)
The Fifth Missile
500! (2001, Father Jones)
Funny Man (1994, card player)
Hiroshima (2005, TV movie)
Journey to the Far Side of the Sun (aka Doppelganger)
(1969, David Poulson, minor role)
Judgement in Berlin (1988)
Living Planet (1979, narration by Ed)
Lolita (1962, film debut, ambulance attendant, tiny non-speaking role)
The Lonely Lady (1983, Dr. Baker, one scene, bad movie)
Lords of Discipline (1983, Commerce St. Croix, more than one scene, southern US accent)
Madame Claude (aka The French Woman) (1976, CIA agent - Ed has no dialog)
Man in the Middle (aka The Winston Affair) (1964, Lieutenant at Sikri)
Mouse on the Moon (1963, American astronaut)
Nutcracker (1983, Sam Dozier)
The Other Side of Venus
The Recruit
Restless Natives (1985)
Rollerball
Saturn 3 (1980, Harding, underneath a helmet and with only 4 lines)
Serpent of Death (1990, Grant)
Silver Dream Racer (1980, Al Peterson)
S.O.S. Titanic (1979 made for TV movie, Henry Harris)
Testimony (1987, American Commentator)
Three Wishes for Jamie (1986)
Turnaround (1986)
Twilight's Last Gleaming (1976, Major Fox)
2001: A Space Odyssey (1968, lunar shuttle pilot,
non-speaking role)
The Unexptected Mrs. Pollifax (1999, Carstairs, TV Movie)
The War Lover (1962, film debut, Col. Vogt, minor role)
Whoops Apocalypse (1984, Wink Perelman)
You Only Live Twice (1967, radar operator)
Television
The Adventurer ('Miss Me Once', Wayne)
The American Civil War (Narrator)
Anne of Avonlea (2 episodes, Judson Parker)
After the War (1989, Charles Lehmann)
The Baker Street Boys
The Baron (196?, 'Storm Warning Pt 2: The Island',
An American Naval Officer)
Because the Sets are Cheaper
Breakaway (1980 'The Local Affair', Scott Douglas)
Broken Glass (1996, Stanton Case)
Cadbury Wispa Ad (80s, TV commercial, US president)
Captain Scarlet and the Mysterons (1967,
voice of Captain Blue, recurring major character)
Carrott Confidential
The Cases of Sherlock Holmes ('A Study in Scarlet', Joseph Strongerson)
The Cedar Tree ('Fete Accompli', Earl Mulligan)
Chancer
Chocky's Children (Dr. Deacon)
Court Martial (196?, 'Shadow of a Man')
Colditz ('Liberation', Lt. Colonel Harrity)
The Day After Tommorow (1973, one hour special, narrator)
The Demon Headmaster (1998, Episodes 3.4 & 3.5, Television Boss)
Drama 61 ('The Edge of Truth')
Dick Turpin ('Dick Turpin's Greatest Adventure', Sam Harding)
The Fall of Edward Barnard (Edward Barnard)
The Fifth Missile, (1986 TV movie, Stewart Cullinane)
The First Olympics - Athens 1896 (1983 mini-series,
Mr. Bogartus)
French and Saunders Christmas Special (1988)
French and Saunders (1993 'Silence of the Lambs')
The Girls of Slender Means (2 episodes, Felix Dobell)
The Highlander (1997 'Diplomatic Immunity', Edward Banner)
The Imaginatively Titled Punt & Dennis Show (1994, Episode #1.2)
It Aint Half Hot Mum
Jackanory (tells the story of 'The Hawkesone'
in five 15 minute episodes)
Jasper Carrott
Jif Dessert Topping Ad (1977, TV commercial, narrator)
Just Fine (the Director)
Just Good Friends (American tourist)
Katy (6 episodes, Dr. Phillip Carr)
Kelly Monteith
Land of the Eagle (narration)
The Les Denis Laughter Show
Life at Stake ('Houston, We've Got a Problem!', Jim Lovell)
The Mad Death (episode#1, Tom Siegler)
Man in a Suitcase (1968, 'The Boston Square', American agent)
Marlowe - Private Eye ('Finger Man', District Attorney)
Marked Personal (4 episodes, Howard Morris)
Master of the Game (1984 mini series, Dr. Mattson)
Nurse Will Make it Better (1984 TV movie, Carson)
1990 ('Whatever Happened to Cardinal Wolsey?', Ed Burbank)
Oppenheimer (7 part production, Gen. Tom Farrell)
Out of the Unknown (1969, 'Beach Head', Cmdr. Tom Decker)
Oil Strike North ('Deadline', Bob Patterson)
Orson Welles' Great Mysteries ('Compliments of the Season',
The Millionaire)
Portrait of a Lady (1967, Casper Goodwood)
The Professionals ('Long Shot', Dr. Harbinger, several scenes, 'Man Without a Past', Braddock, several scenes )
The Protectors (1973, 'First Circle',
Col. John Hunter)
Quiller: Prince of Violence (1975, TV Movie, Frank Ilroy)
Rogues' Rock (5 episodes, Cyrus Triphammer)
Running Blind
The Saint (1964-66, 6 episodes, including:
'The Man Who Liked Lions', Tony Allard, 'The Saint Bids Diamonds',
George Felson, 1964, 'The Saint Steps In', Cy Imberline, 1964,
'The Revolution Racket', Sherm Inkler, major part)
The South Bank Show
Stainless Steel and the Star Spies (voice)
Star Trek (1973, animated, 'The Magicks of Megus-Tu', Asmodeus (the Prosecuter), major voice part)
The Strange Report (1968, '#5055: Murder Shrieks Out', Moran)
S.O.S. Titanic (1979, Henry Harris)
Space Precinct trailer (1994?, narrator)
Take a Letter Mr. Jones (1981, Joe Bradley, part is integral to story)
The Two Ronnies (voice only)
Three Wishes for Jamie (1986, TV movie)
Thriller ('Nurse Will Make it Better', Carson)
2point4 Children (1993 'Whoopee, We're All Going to Die', Chet)
Two's Company ('The Honeymoon', Jack)
The Two Mrs. Grenvilles (1987, TV movie in 2 parts,
2 scenes, no dialog)
Top of the Pops (with Landscape performing 'Norman Bates')
UFO (1969-1970, Cmdr. Ed Straker, main character/26 episodes)
Waking the Dead (2002, 'Special Relationship Part 1, Tyler)
War and Remembrance
Warship ('The Man from the Sea', Sanders)
The Way We Live Now
We Can Keep You Forever
What Katy Did (PBS childrens series ~ 1975, Dr. Philip Carr)
Wild Alliance ('Danny Boy', Wingman)
Whoops Apocalypse (1982, 6 part mini-series, Jay Garrick)
Wynne and Penkovsky
The Young Indiana Jones Chronicles (1992?, 'The Curse of the Jackal', soldier)
...plus many voiceovers for television commercials.
Theater
And People All Around (1966?, Somerset)
The Archbishop's Ceiling (1985)
A Boston Story
Broken Glass (1994-95, Stanton Case)
Bye Bye Birdie (1962, understudy & small parts)
Death of a Salesman
Death Trap (80s?, Sydney Bruhl)
The Fatal Weakness (Windsor)
Ffeiffers America (80s?)
Fool For Love (1991, the old man)
Goodnight Mrs Puffin
The Great White Hope (80s?)
Hospitality (1989)
Imagine Drowning (1991, Buddy)
Little May Sunshine (1962, London, American Indian)
Look Homeward Angel (1961, Surrey & London,
American sailor, first acting role)
Look, No Hands! (London)
Macbird (1966, John F. Kennedy, London)
Man and Superman (1963, Boston)
The Man Who Had All the Luck (1990, Dan Dibble)
Play Mas (London)
The Price (1991)
The Rehearsal (1963, New York)
The Russia House (1994)
Sabrina Fair (Surrey)
Suez (1977 on tour in England)
Turnaround (1994?)
Waiting for Lefty
Radio
Abraham Lincoln (William H. Steward)
Accidental Murder (1992, Jasper)
Aesop's Animals (1996, Berryman)
The Ambassadors
The Archers (1996, BBC radio 4 daily series)
The Best that Money Can Buy (1994, Hal Weissen)
The Big Sleep (Phillip Marlowe)
Bodyguard of Lies (1994)
The Bostonians (Phillip Marlowe)
The Caves of Steel (1989, Elijah Bailey, top billing)
The Dolphinarium (1995, Senator Muldoon)
Eight Ball (Earl Green)
The Enemies Within (Albert Samson)
The Fall of Edward Barnard (Edward Barnard)
The Fifth String (Phillip Marlowe)
The Fwog Pwincess
Gentlemen Prefer Blondes (11/1995, Gus Eisman, 4 parter on Radio 4)
The High Window (Phillip Marlowe)
How the West Was Sung (various voices)
Ice
The Lady in the Lake (Phillip Marlowe)
Letter from Paris (George Flack)
The Little Sister (Phillip Marlowe)
The Long Goodbye (Phillip Marlowe)
Keys of the Kingdom (1994, Wilbur Fiske)
Malgosia and the Men (1994)
Man in Space (Gus)
A Matter of Honour
Medical Detectives (1995, 'The Last Infirmity')
Meeting Bea (1993?)
Mildred Pierce (1993?)
A Movie Starring Me (1991)
The 95 File (reader for the five 30 minute programs)
An Occurance At Owl Creek Bridge (23 Nov 1995, the captain, on Radio 3)
Our Town (1995, the Stage Manager)
Now and at the Hour of our Birth (Phillip Marlowe)
The Psychedelic Spy (1992, part 3 of 5, Alex Lindstrom)
The Russia House
The Search for Amelia Erhart (Dr. Shaft, Cmdr. Bridwel, Adm. Smith)
Sherlock Holmes: His Last Bow (1994, 'The Last Bow')
Stardust (1992)
The Things that are Caesar's (Raymond Fisk)
The Third Man (Phillip Marlowe)
The Toff on the Farm (Red Brant/CIA Agent)
Typhoid Mary (Phillip Marlowe)
Waggoners' Walk (Tony Sargant)
Waiting for Lefty (1994, Dr. Barnes)
The Way We Die Now (Albert Samson)
Willis is Barking (1993?)
The Winter of Our Discontent (1995, Biggers)
American Faith : Richard Milhous Nixon's Road to Watergate (1998, Herman Perry)
...plus many radio commercials.
Audio Books
Accounting for Murder - 6 tapes
Apollo 13 (Life at stake: Houston we have a problem) (Jim Lovell)
Breakheart Pass - 4 tapes
Caves of Steel
Easter Meditation
Farewell My Lovely (Philip Marlow)

Loading the player...

Fires Unseen
The Fwog Pwince
It's a Beautiful Day, by Isaac Asimov
The Long Good Bye (Philip Marlow)
The London Embassy - 6 tapes
The Poseidon Adventure, by Paul Gallico (1994, ISBN 1-85848-254-2)
Snow White and Rose Red - 4 tapes
...plus many more