Tuning In On Ed Bishop
Trying to track down U.F.O.'s "Commander Straker" is almost impossible since he's always on the move - but we found his, uh, wave-length!
Interviewer: Maureen Donaldson - Rona Barrett's Hollywood Sep 1973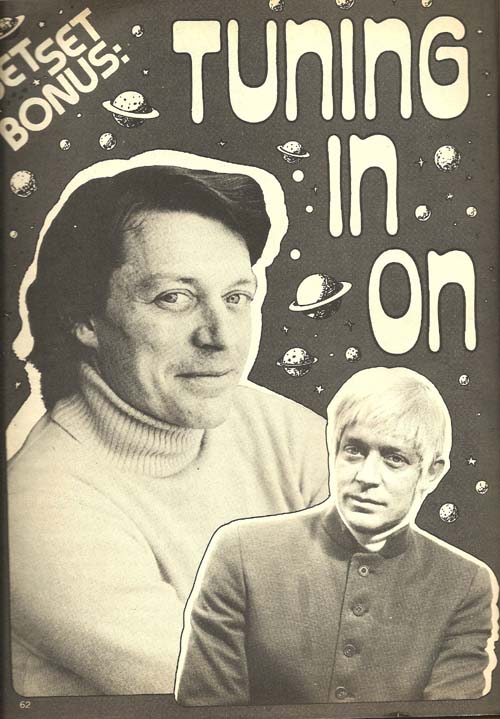 "Children just cannot have enough love and acceptance and the more they have, the more security they have within themselves when they get older," Ed Bishop, the handsome commander of Supreme Headquarters on the "UFO" television series, open exclaims during his visit to RBH's offices in Hollywood.
"I own a lovely home and a new car and color television. I have a wonderful wife and four beautiful children. I don't owe any money to anyone and it's all resulted from my being an actor," he continues proudly.
Ed obviously adores his family and enthusiastically talks about his children.
"My son, Daniel, looks so beautiful in his school uniform with his little green cap and grey pants. He's absolutely spoiled with 3 girls around him! He has a mass of blond curly hair, the biggest cow brown eyes with the longest lashes and a cupid bow mouth. I think Daniel will end up in the South of France with a gold ring in his ear, reading poetry to some old dowager. I'm sure he'll be eminently happy," he says heartily. "And my three girls, well, they're taken care of! You see, I'm very, very affectionate and I give them an awful lot of love. We are a very close knit family, which is vitally important. I don't know what any of my girls will do when they grow up. I don't really care what they decide - I would just like to see them be happy, that's all. I'm extremely melancholy, being away from them now," he says quietly, his face clouding, a far away look in his eyes as he speaks.
"You know, it's amazing how blaisé they are about their Daddy being an actor," Ed chuckles to himself. "On 5 o'clock every Saturday afternoon in England when 'UFO' was televised, our living room was like Grand Central Station. All the kids in the neighborhood from 2 miles around would pour into our house to watch the show. I loved it! They would all act it out and say 'why didn't you do this' or 'why didn't you let him go?' and I used to lie on my stomach on the floor and the kids would all sit around me. My wife and I really used to get a kick out of it all!"
Today, he and his wife and 4 children live in a comfortable home in Hampton Court, a fashionable section near the Rive Thames in London.
But time haven't always been as happy for Ed Bishop. It was a long touch haul to get to where he is today! Following graduation from Boston University, Ed was offered a Fulbright Grant to study acting in England. He quickly landed an offer as understudy for Peter Marshall in the British stage version of "Bye Bye Birdie".
"At that time I was very, very lonely," he recalls. "I didn't really have a pal on the show and all my friends from the Academy had left London to pursue their own careers so I was really all alone in the big city! I was also painfully shy and found it extremely difficult to meet people. One day, out of sheer despiration, I went to the American Express office and looked through the log of American visitors book on the thousand to one chance that there might be someone in Londan that I knew from Boston University. I scanned the list until I came to a Jane Adams. Now there was a Jane Adams at my school back home - so I figured I had nothing to lose and wrote down the hotel where she was staying in London and gave her a call. Needless to say, it wasn't the same Jane but we arranged to meet for a drink and through her I met some wonderful people and it was a great encouragement for me to stay on in England and pursue my acting there," he grins, running his hands through his mop of thick, curly brown hair. It wasn't long after this incident that Ed met and fell in love with a beautiful English girl.
"I met her at a demonstration in Trafangar Square one bright Saturday afternoon," he recalls happily. "I can still remember to the most minute detail everything that she was wearing. She still has that blue linen suit hanging in the closet at home - I won't let her throw it away," he laughs, the memories flooding back rapidly. "Anyway, it was very crowded but for me, she just stood out. I thought she was foreign. She certainly looked it with the white kerchield tied around her head. She was looking up at the statue of Lord Nelson and I braced up enough courage to go over and talk to her! You know how you talk to foreigners, articulating every word? Well, I said to her, 'That's L-O-R-D N-E-L-S-O-N' and she slowly turned around, lowered her dark glasses and said , 'I beg your pardon!!' I could have died with embarrassment," Ed smiles, blushing still at the mere thought.
Two years later they were married.
How did Ed Bishop land the role in the "UFO" series?
"I once did a show for Gerry Anderson, the producer, and when they were casting the series in London, Gerry recommended me to Sir Lew Grade and I got the job. I really enjoyed doing the show. I just found it damn hard work because the pace is so fast on a series. But I feel it's always good training to stay with a certain character for a while so you can develope a technique. After a while, I was known on the set as '5 minute-a-day Bishop'. They came within an inch of making another 26 episodes recently. You know, the series didn't do well in Englad, which really surprised me but in Germany it was a complete knock-out and over here in the States it has been very successful. But when the series stopped production, I stopped getting paid. So for obvious reasons, I am now looking for another acting job," he concludes.
Bishop returned to the States last December to scout around for some meaty acting roles. However, he hasn't met with much success yet - partially due to the Writer's strike which has closed up several studios in Hollywood and partially becasue he hasn't been sent any film script yet that he "would like to sink his teeth into."
One thing that Ed does have is a lot of ambition and drive and talent to back them both up. We have a feeling that it won't be too long before he "takes command" of the situation again and lands himself another role to sky rocket his career even further up the ladder of success.!
---