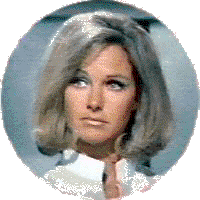 Wanda Ventham
Personal
Born in Brighton in August 5, 1935.
Studied at the Central School of Drama.
Became a professional actress in 1958.
Has a daughter and is the mother of actor Benedict Cumberbatch.
Wanda made a brief guest appearance in the first UFO episode Identified. After a break in production after the 17th episode, George Sewell was unable to return as Alec Freeman, so Ed Bishop suggested bringing Wanda back to replace his character.
Film Credits
The Blood Beast Terror (aka The Vampire Beast Craves Blood)(1967, Clare Mallinger, small part)
Captain Kronos: Vampire Hunter (aka Kronos)(1974, Lady Durward, small part)
Carry On Up the Kyber (1968, Wife #1)
Cracksman, The (1963, Sandra)
The Knack...And How to Get It (aka The Knack) (1965, Gym Mistress)
Love is a Woman (aka Death is a Woman) (1967, Priscilla)
Mister Ten-Percent (1967, Kathy, sister of theatre owner)
The Navy Lark (1959, Mabel)
Sappho Darling (70s)
The Spy with a Cold Nose (1966, Mrs. Winters, only has one scene)
Teenage Bad Girl (aka Bad Girl) (British title: My Teenage Daughter)(1956, Gina)
TV Credits
All Creatures Great and Small (1987)
The Brack Report
The Caesars
Capstick's Law (1988)
The Champions (1967)
City 68
Crown Court
Danger Man (1964, "A Man To Be Trusted", Stella Dorset
1965, "The Mirror's New", Penny)
Department S (1969, "The Man from X", Leila)
Don't Wait Up
Dr. Who (1977, "Image of the Fendahl", Thea Ransome)
Dr. Who (1967, "The Faceless Ones", Jean Rock)
Dr. Who (1987, "Time and the Rani", Faroon)
Enter Baron (1964)
Executive Stress (199?, main character's best friend, recurring role)
The Expert
Fallen Hero
Family at War
The Gentle Touch
Lost Empires
The Lotus Eaters (1971, Anne Sheppard)
Just a Gigolo (1993?, the older woman)
Minder ("Dreamhouse", Beryl)
Next of Kin (1995-1996, Rosie, recurring)
No Place Like Home
Only Fools and Horses (1988, Rodney's Mother-in-Law)
Only When I Laugh
The Prisoner (1967, "It's Your Funeral", Computer Attendant)
Riviera Police (1965, "The Lucky One Was the Snake", Marguerite)
The Saint (1964, "The Death Penalty", Laura Stride)
The Saint ("Escape Route")
The Sweeny (1975, "Abduction", Brenda)
The Troubleshooters
UFO (1969, Col. Virginia Lake, recurring/major role)
Union Castle
The Wednesday Special: Breakdown (1976, Sylvia)
What's My Line? (a panelist on the game show, 1988)
Theater Credits