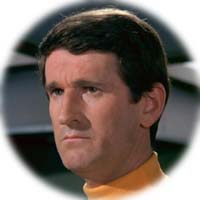 Keith Alexander
Personal
Attended Adelaide University studying engineering and law before going into acting. He moved to London in 1965.
Height: 5' 11 1/2".
Specialty is reproducing accents.
Attended the UFORIA II (89) convention.
Moved back to Australia in the early '90s.
Film Credits
Hanover Street (1979, Soldier in Barn)
Journey to the Far Side of the Sun (aka Doppelganger) (1969, flight controller)
Submarine X-1 (1969, Sub-Lieutenant on X-3)
Superman (1978, Newscaster)
Thunderbird 6 (1968, voice of Black Phantom/John Tracy)
TV Credits
The Day of the Triffids (1981, Newsreel voice)
Home and Away (90s, Australian soap)
Joe 90 (voice of Sam Loover)
A Life at Stake (1978 Houston, We Have a Problem, Fred Haise)
No Hiding Place (60s)
Minder (1979 The Bounty Hunter, Andy)
The New Avengers (1976 Gnaws, Malloy)
The Secret Service (voice only)
Softly, Softly (60s)
Mrs. Thursday (60s)
The Ed Sullivan Show (60s, voice for Topo Gigio, the Italian puppet mouse)
UFO (1969, Lt. Ford)
Theater Credits
Radio Credits
The Last Cargo of the Cathay Queen (1983, ship owner, top billing)
Plus voice-over, narration, and dubbing work.
Many Thanks to Marc Martin for supplying much of this info. Marc Martin's UFO Series Home Page.