Sandor Karolean
The Protectors - Brother Hood


Sandor Karolean


Le Chiffre's Representative
Casino Royale (1967)


Le Chiffre's Representative


Dr. Beauville
Doppelgänger (1969)


Kronsteen
From Russia With Love (1963)


Kronsteen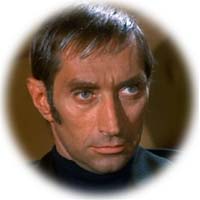 Vladek Sheybal
Personal
Born in Poland of American and Scottish extraction in March 1923.
During WWII, he was captured by the Nazis once, escaped, and captured again.
Began his show business career as a Director in 1960.
Attended the FANDERSON 90 convention.
Died 16 October 1992 of an abdominal hemorrhage.
Film Credits
All About a Prima Ballerina (1980, Marcus, also wrote and directed)
The Apple (1980, Boogalow)
The Billion Dollar Brain (1967, Dr. Eiwort)
The Boy Friend (1971, C.B. De Thrill)
Casino Royale (1967)
Deadfall (1968, Dr. Delgado)
Fire and Sword (1985, Andret)
From Russia with Love (1963, Kronsteen)
Gulliver's Travels (1977, voice only)
Hamlet (1976, UK)
Innocent Bystanders (1973, Aaron Kaplan)
The Jigsaw Man (1984, General Zorin)
Journey to the Far Side of the Sun (aka Doppelgänger) (1969, Dr. Beauville)
The Lady Vanishes (1979, Trainmaster)
The Last Valley (1971, Mathias)
Leo the Last (1970, Laszlo)
The Limbo Line (1969, Oleg)
Marco Polo (84?)
Memed My Hawk (1984)
Mosquito Squadron (1969, Nazi officer Lt. Schack)
Kanal (aka They Loved Life) (1956, The Composer)
Puppet on a Chain (1971, Meegeren)
Red Dawn (1984, Bratchenko)
Return from the Ashes (1965, Manager)
Scorpio (1973, Zametkin)
The Sell Out (1976, The Dutchman)
S*P*Y*S (1974, Russian Spy Chief Borisenko)
Strike It Rich (aka Loser Take All) (1990, Kinski)
The Wind and the Lion (1975, The Bashaw)
Women in Love (1970, Loerke)
TV Credits
The Bill (guest appearance 17 Sept 1992)
The Champions ("The Dark Island")
Danger Man ("Fish On The Hook", Tuffic)
The Man in Room 17
The New Avengers ("Cat Amongst the Pigeons", Zacardi)
The Protectors (70s, "Brother Hood")
The Saint
Shogun (1981, Ferriera)
Smiley's People
Strange Report (1968, "Sniper - When is your Cousin Not?")
UFO (1969, Doug Jackson, recurring role)
Theater Credits
Also visit Claire Steed's Vladek Sheybal Online, a site dedicated to a man of many, many talents.
Other articles: Ken Russell Vladek Sheybal