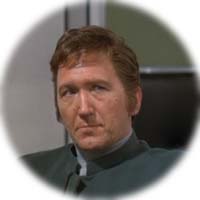 George Sewell
Personal
Born 31 August 1924 in Hoxton, London. Son of a florist and a printer.
George left school at 14 and followed his father into the printing trade as an apprentice printer. He joined the RAF in 1943 but the war ended before he could complete his pilot's training. When demobilized, he worked n a number of different jobs before joining the Merchant Navy and serving as a steward for the Cunard Line aboard the Queen Mary, the Queen Elizabeth, and the Carionia on Atlantic crossings to New York. Eventually, he resigned his commission and joined a holiday coach tour company as a courier, a position he held for six years and allowed him to explore Europe.
While George's younger brother Danny was an actor, George had never considered going into the profession until a chance meeting with actor Dudley Sutton in a pub. Sutton suggested that George see Joan Littlewood who was casting a production of "Fings Ain't Wot They Used T'Be" and was looking for someone with George's features. Littlewood was known for not liking to use 'real' actors in her productions, so George's lack of training would prove ideal. Accepting Sutton's challenge, George met with Littlewood and given a role in the production. At the age of 35, George made his acting debut in the West End production of "Fings Ain't Wot They Used T'Be" and even appeared on the original cast album recording of the show.
This role was followed by roles in other Littlewood productions: "Sparrows Can't Sing" and "Oh, What a Lovely War". These three roles for the Theatre Workshop were George's training in the theater, paving the way to a long career in television and film.
George appeared in the first 17 episodes of UFO, but after a several month stop in production, he was unavailable for the remaining episodes as he was already starring in "Manhunt" and "Paul Temple".
Attended the UFORIA (88), FANDERSON 90, ACTION 93 conventions.
He died April 2, 2007 at the age of 82 and was survived by his wife and daughter.
Articles
Film Credits
Barry Lyndon (1975, Barry's Second)
Deadlier Than the Male (1966, Car Park Assassin (uncredited))
Get Carter (1971, Con McCarty)
The Haunted House of Horror (aka The Dark) (aka Horror House) (1970, Kellett)
If You Go Down in the Woods Today (1981, Knocker)
Invasion: UFO (1974, Col. Alec Freeman)
Journey to the Far Side of the Sun (aka Doppelgänger)
(1969, Mark Neuman, minor role)
Kaleidoscope (aka The Bank Breaker) (1966, Billy)
Let's Stick Together (1998, Carter)
Operation Daybreak (aka Price of Freedom) (1976, US/UK/Czech war movie, Panwitz)
Poor Cow (1968, UK drama, Customer in Pub (scenes deleted))
Robbery (1967, Ben)
Sparrows Can't Sing (1963, Bert)
This Sporting Life (1963, Jeff)
Underworld Informers (British title: The Informers) (1965, crime drama, Fred Hill)
The Vengeance of She (aka The Return of She) (1968, Harry Walker)
Winterspelt (1979, Colonel)
TV Credits
Adventurer, The (1972, Target! - Harry Venner)
Andy Robson (1983, Peter Mueller [5 eps])
Armchair Theatre (1967, The Education of Corporal Halliday - Staff Sgt. Graham)
Basil Brush Show, The (1976, Episode dated 11-Dec-76)
Bill, The (2005, 348 - Ex-DCS Charles Barnet; 1999, Weekends Are for Wimps - Bill Pavey; 1994, Gate Fever - Ron Davies)
Bulman (1985, The Name of the Game - Harry Scroop)
C.A.T.S. Eyes (1985, Love Byte - Charlie Hammond)
Caesars, The (1968, Germanicus - Ennius)
Canned Carrott (1990, Supt. Cottam [segment "The Detectives"])
Casualty (2006, Needle - George Barron)
Chinese Detective, The (1982, Wheels Between Wheels - Jack Longman)
Churchill's People (1975, The Derry Boys - Colonel Michelburn)
Crime of Passion (1971, Celestina - Juan)
Crime Story (1979, Narrator)
Crown Court (1983, None of Your Business: Part 1 - Victor Crawshaw)
Detective (1968, The Case of the Late Pig - Lugg)
Detectives, The (1993-1997, Superintendent Cottam )
Diamonds on Wheels (1974, Henry Stewart)
Dixon of Dock Green (1971, As Good as a Picnic - Frank Hooper; 1966, Manhunt - Bellamy)
Doctor Who (1988, Remembrance of the Daleks: Parts 1-4 - Ratcliffe)
Doctors (2005, Call Me Sweetheart - Frank Jones)
Don't Forget to Write! (1977, Going Up in the World - Pierre)
Dr. Finlay's Casebook (1970, A Good Prospect - Duncan Bradley)
Edwardians, The (1972, Gus Elen)
Every Silver Lining (1993, Brotherhood)
Expert, The (1969, Protection - Louis Scammell)
Fix, The (1997 - Chairman)
For Amusement Only (1968, The Ticket - The bookmaker)
Fox Mystery Theater (1984, Mark of the Devil - Det. Inspector Grant)
Gamblers, The (1968, Give and Take - Gerald)
Gentle Touch, The (1981 - Dave Connally [recurring character])
Gideon C.I.D. (1966, Boy with a Gun - Tim Murphy)
Harry and the Wrinklies (1999 - 'Huggy' Bear)
Heartbeat (2000, Against the Odds - Ray Walker)
Home and Away (1972, Winslow Scott)
Home James! (1987-1990, 4 eps - Robert Palmer)
Informer, The (1967, Where There's Muck, There's Money - Vaughn)
ITV Play of the Week (1967, The Investigation - Witness)
ITV Playhouse (1977, The Bass Player and the Blonde; 19689, Suspect - DI Barnes)
Knock on Any Door (1965, The Machine Minder - Bill)
Londoners (1965, The Frighteners - Barman)
Love Story (1965, The Sad Smile of the Mona Lisa - Ernie Allen)
Main Chance, The (1975, Surviva - Harry Kenton)
Man at the Top (1972, Don't Rock the Boat, A Mug Like Me - Henry Webster)
Man in a Suitcase (1967, The Sitting Pigeon - Rufus Blake)
Man in Room 17, The (1966, The Fissile Missile Makers - Shelton)
Manhunt (1970, - Allard [recurring character])
Masterpiece Theatre: Bleak House (1985, Ironmaster Rouncewell)
Minder (1982, Rembrandt Doesn't Live Here Anymore - Frank Downing)
Mr. Rose (1967, The Bright Bomber - Bomber Bolt)
My Partner the Ghost (1970, Vendetta for a Dead Man - Eric Jansen)
Nineteenth Hole, The (1989, Episode #1.6 - Ray Smollett)
No Hiding Place (1967, Personal Feelings Don't Count - Brannigan)
Paul Temple (1970-1971 - Sammy Carson [recurring character])
Play for Today (1974, Taking Leave - Father)
Power Game, The (1965-1966 - Frank Hagadan [recurring character])
Public Eye (1969-1971, Jakeman [recurring character]; 1971, Come Into the Garden, Rose - Harry Brierly)
Redcap (1966, The Pride of the Regiment - Barratt
Rising Damp (1975, The Prowler - Baker)
Running Blind (1979 - Slade [recurring character])
Screen One (1990, Sticky Wickets - Friedrich)
Shadows of Fear (1971, Repent at Leisure - Harry)
Sir Arthur Conan Doyle (1967, The Croxley Master - Mr. Stapleton)
Six Days of Justice (1972, Cross-Fire - Anthony Brown)
Softly Softly (1967, The Bombay Doctor - George Milton)
Softly Softly: Task Force (1974, See What You've Done - Vincent Pauldron)
Some Mothers Do 'Ave 'Em (1975, Learning to Drive - Wheeler)
Special Branch (1973-1974 - Det. Chief Insp. Alan Craven [recurring character])
Spindoe (1968, - Scaliger [recurring character])
Sweeney, The (1978, Bait - Vic Tolman)
Tales of the Unexpected (1983, A Passing Opportunity - Laughlin)
Thirty-Minute Theatre (1969, Stake Money)
Tinker, Tailor, Soldier, Spy (1979 - Mendel)
UFO (1970-1973 - Col. Alec Freeman [recurring character])
Upper Hand, The (1993, Minder - George Carver)
Walt Disney's Wonderful World of Color (1974, Diamonds on Wheels: Parts 1-3 - Henry Stewart)
Wednesday Play, The (1965-1967, various)
Wet Job (1981 - Haggerty)
Z Cars (1965-1967 - Det. Insp. Brogan [recurring character])
Theater Credits
Aladdin (late 1995 - 27 Jan 1996)
Billy
The Business of Murder
Cinderella (1991, Baron Hardup)
Cole
Fings Ain't Wot They Used 'T Be (acting debut) (1960)
Night and Day
Oh What A Lovely War (1960's, Earl Haig)
Oliver (Bill Sykes)
Pack of Lies
Policy for Murder
Putting on the Glitz (1991)
Rat Trap
Signpost to Murder
Verdict (1991)
Veronica's Room
Who Killed Agatha Christie?
Audio Books
The Day of the Jackal (1983)