Ricordo Bene (I Remember Well)
An Interview with Paolo Malaguti written by Amelia L. S. Rodgers with translation assistance by Teresa Cerana. No part of this interview, the information therein nor the photographs may be reproduced anywhere without written permission from the authors. If you see any or all of this interview or these photographs on another website, it was taken without the author's and Mr. Malaguti's permission, violating copyright.

Done as an exclusive piece for ISOSHADO http://www.isoshado.org/ and Deborah Rorabaugh's The Shado Library to honor the late Ed Bishop.

ISOSHADO's Paolo Malaguti looks back at his memory of the life of Ed Bishop on the seventh year anniversary of Ed's death.

I hope fans enjoy reading it as much as I enjoyed writing it. Paolo has allowed me to have some of his exclusive photographs Copyright ©2012 Paolo Malaguti ISOSHADO to accompany this article and his responses have not been edited by the author ©2012 Amelia L. S. Rodgers in any way.
---
Hello from the United States again, Paolo! Again, I express my endless gratitude to you and Teresa for what you did for me and what you're doing now. How gracious of you to do this for Ed's faithful fans who will always remember him with respect and great fondness.
We go first to how it all began. Can you tell me about the day you first saw the UFO series in Italy?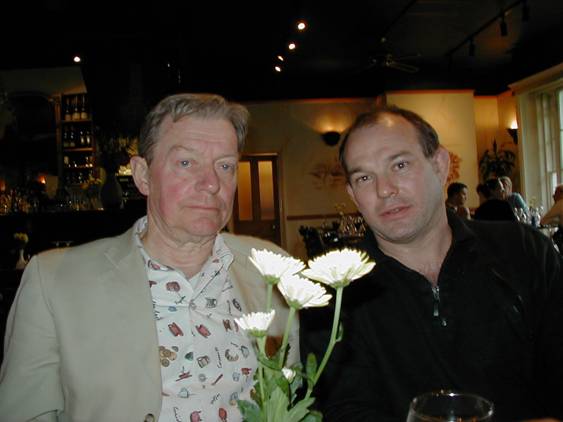 I perfectly recall as it was September 1971. I was ten years old but science fiction was already my passion and I found myself reading in a tv magazine that on the following Friday night the Swiss television would broadcast the first episode of a series titled "Minaccia dallo spazio" (Menace from space). Living in the Milan area, northern Italy, it was possible to receive the Swiss tv signal. Back in 1971 and until 1978 the Italian tv would broadcast only in B&W, while the Swiss tv was already in color.
I was lucky enough to live in an apartment above a very wealthy family, that owned a color tv set (really unusual in Italy) that allowed them to watch also the color programs of the Swiss tv station. Being not only a neighbour, but also a school mate of their daughter, I was invited on Fridays to their flat to watch UFO (or Minaccia dallo spazio, as per its Swiss title).
The Swiss tv broadcast just half of the series (13 episodes) but just after a couple of months also the Italian state tv (RAI) purchased the rights to broadcast UFO: two batches of 8 episodes each, using the original title "UFO" and a different dubbing than the Swiss one.
An anecdote: my cousin's aunt was at that time a tv and theatre actress, as well as dubber. It was her to dub one of the Moonbase operatives, probably Antonia Ellis/Joan Harrington.
UFO had avid fans from many parts of the world, but the show's Italian fans seem to be among the most dedicated and appreciative of the show. Why do you think Italy embraced Ed Bishop as Commander Straker and the UFO series itself with such fervor?
I do not agree, I know hundreds of fans of the show, mainly British, as well as Japanese, Australian and, of course, Italian. I believe that the approach to the series and Ed Bishop himself shown by the Italian fans is due to the "open" attitude of the Italians.
Just an example: in 2002 I cooperated to the making of the Japanese UFO DVDs, at that time, in agreement with Ed Bishop, I made a proposal to the project leader to bring Ed Bishop there for a meeting with fans. This turned out in nothing, as the project leader explained that such an event would not be very popular in Japan, even if the following of UFO in Japan is much higher than in Italy.
Also Gito Santana, the most popular UFO Alien, during his first trip to Japan was welcomed by just three fans (by chance still dear friends of mine).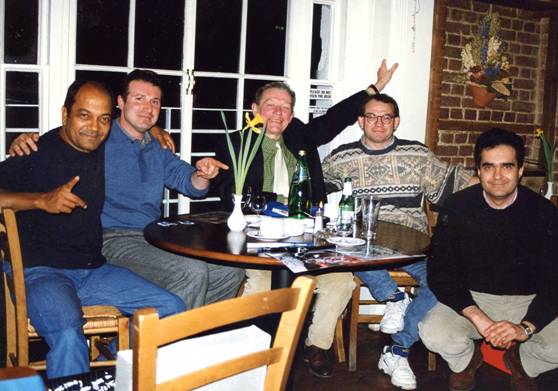 What do you think it was that captured your imagination enough that you turned your house into an exhibit for the UFO series (with items like Ed's personal costumes as Straker) and then created ISOSHADO as a further treat for the fans?
To answer this question, we should go back to the first question you asked (above): I was ten years old and I did enjoy the show. But I would never ever think to dedicate such an important part of my life. It is difficult to answer this question, for sure one of the main reasons is the fact that soon after the broadcast by RAI tv in Italy, the series disappeared from the Italian tv sets for some 30 years. I used to collect various things, as all teens did, comics, records, etc. but over time I decided to forget the rest and focus my interests and my limited funds just on items related to UFO. For example, I recall I sold a collection of G.I. Joe/Action Man for some 6.000 dollars... Or, just to give you an idea, when someone offered me the UFO Alien Helmet I did not hesitate to sell my Suzuki motorbike, just 15 days after its purchase. It was in that period that I selected the passions I would grow in my life: UFO and Judo, incidentally either born in 1971.
When did you first start to collect material on UFO and what was your first acquisition?
It is embarrassing to say, but I do not recall precisely. For sure, in 1971, one of the first UFO items that I collected and still own is the Dinky Toys Interceptor, but I recall, besides all other Dinky models, the Panini collector cards, the photonovels "I Film di UFO", and other unlicensed items, common in Italy, that exploited the series' name to grow their business.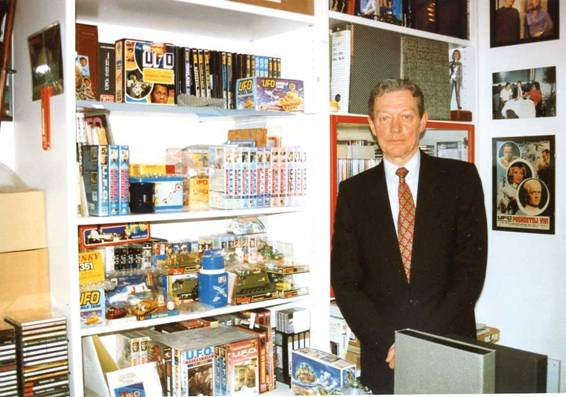 Now that it joyfully appears that replicas of the actual Straker car are finally going to be reproduced for a lucky few, will you try to own a copy to go with the Shado jeep which you already have?
I have read about the Straker's car. As a UFO fan I cannot figure out that the original vehicle is so damaged that it can't be restored, but just used to make replicas... Moreover, I think that they are just obtaining some reproductions of the shell. I don't think that a few pieces of fiberglass are enough to make a complete replica of the Strakers' car. They should also consider frame, engine, seats, interiors, wheels, steering wheel, etc.
For sure, were I a billionaire, I'd look for a Ford Zephyr and would ask a craftsman to reproduce all parts which were originally manufactured back in 1969 (or earlier, as the Straker's car was also used in Doppelganger).
I do not want to criticise the people who have embarked in a similar project, actually, I do appreciate their enthusiasm in carrying out the task.
I also wish to mention that if I were working on the remains of that car, I'd rather first save the original vehicle, even if it is no longer usable, or what's left of it, and then try and build replicas.
When I purchased the SHADO Jeep, I felt the responsibility of owning an item very important for the UFO series, from a historical point of view. So I believe that whomever has the possibility, or luck, of obtaining something original coming from the set, should first of all care about it, all the rest can come later.
One of my greatest regrets is not having been able, so far, to start and restore the UFO Jeep, but I am keeping it in the best possible way.
What were your first impressions of Commander Straker, and how was UFO different than other Sci-Fi series shown in Italy?
UFO was the first sci-fi tv show to be aired by the Italian state tv. Star Trek got to Italy in the late Seventies and, as I had not met Ed Bishop yet, Commander Straker was simply the lead character of the show I loved, but my passion for UFO was also made up by Foster, Freeman, purple wigs, Interceptors, Skydivers, etc..
Did you have any idea back then just how important a part the show was going to play in your life?
No, I did not have the faintest idea.
Tell me if you can about which UFO materials you own that are especially significant for you, putting aside for the moment your incredible recent acquisition of Ed Bishop's actual watch, which Ed's family generously entrusted you with for the time being?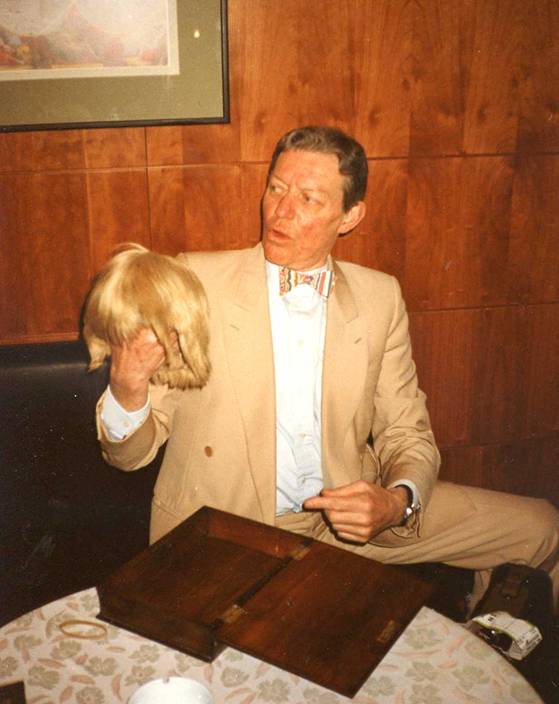 Probably Ed's wig, but there is a lot of other items such as Wanda Ventham's shirt in Timelash, Gabrielle Drake's make up set, and other items that Ed Bishop donated to me, not necessarily UFO related: for example a silver money clip that he found on the ground when he first arrived to England; the amazing thing is that the clip carries the EB initials.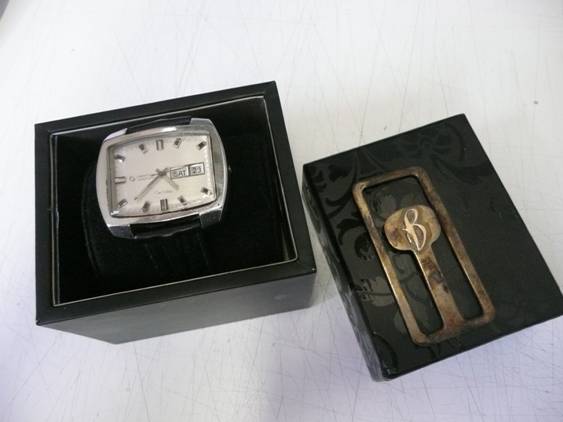 How did you go from being a fan to someone who actually met and befriended the late Ed Bishop, the lead of the show?
Having been a UFO fan for many years, I had many international relations with British and Japanese fans. There was no internet at the time so we exchanged letters or faxes, or phone calls. In the early Eighties I saw a magazine in an international bookshop in Milan: SIG. I then purchased all issues and got to meet Fanderson which was founded in that period. I so started to attend the first conventions in England and could meet Ed Bishop, initially as a simple fan and then as "the Italian fan", until the day the Italian tv got in touch with Ms. Joan Gray (Ed Bishop's agent) to invite him to an Italian show. When Joan Grey informed Ed Bishop of the invitation, he mentioned to her that he already had a reliable man in Italy. So Ed Bishop called me on the phone and I organised his attendance to that show; months later we met again in England and in the following years I directly organised events for him in Italy, or I mediated with people who wanted to invite Ed Bishop to their projects and events. From 1995 to 2005 I organised dozens of events that brought him to Italy for: conventions, interviews, tv shows, feature films, film trailers and meetings with fans.
All of that, plus the various meetings I had with Ed Bishop in the same timeframe, in England for both conventions and private trips, consolidated our friendships to the point that Ed and Jane Bishop used to invite me to their place at Hampton Court on river Thames.
What were some of Ed's reactions to meeting you and coming to your country, had he ever traveled to Italy for work or pleasure before?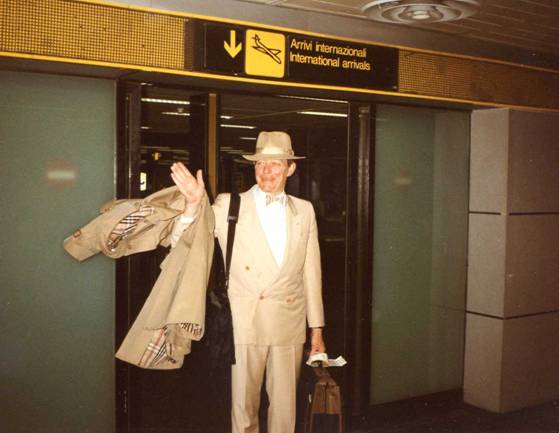 Ed Bishop was always very happy to come to Italy, and after his first trips, once familiarised with the ISOSHADO atmosphere, my sensation was that he felt at ease.
I recall that Ed Bishop told me that he had already been in Italy before our first meeting, but I do not recall precisely the details. I can anyway say that during our relationship Ed Bishop has come over to Italy for both work and pleasure.
I understand and please correct me if I am wrong, but I seem to remember Ed was going to appear in some show in Italy and you volunteered to assist him?
As I mentioned, Ed Bishop has attended several events in Italy but the two shows you probably refer to were two tv shows made by RAI tv titled "Quelli che il calcio..." and "Anima mia". Particularly, during Anima Mia, the invitation was not addressed to Ed Bishop as an actor but to Commander Straker as character. The show had also invited William Shatner (to perform as Capt. Kirk), Lou Ferrigno (as the Incredible Hulk) and many others. On that occasion Ed Bishop dressed up for the first time since UFO in his Commander Straker costume, wig and make up (i.e. 27 years after UFO).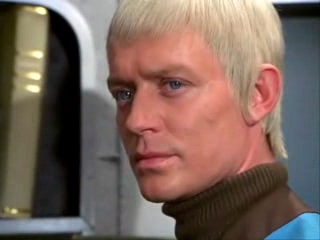 The show was joyful and very informal but Ed Bishop, not being aware of that, while preparing before getting live on the Italian tv, entered into his Commander Straker mood, role and personality in a very deep way; it was there that I felt I was no longer in front of Ed Bishop, but right beside the "real" Commander Straker.
What were some of your first impressions of Ed when you met him? Since as even Ed Straker admitted, first impressions are so important.
As I had been in touch with British fans for some years, who had met Ed Bishop, I knew that his attitude would be totally different than the Commander Straker one even if my first attempt to meet him was a total delusion: despite a trip of some 1.500 kilometers, Ed Bishop could not attend the event so I missed him on that occasion. The following year I succeeded in meeting him in person.
Over time, he practically became a part of your family, as the great photographs on the ISOSHADO site indicate. What was that like for you? Were you nervous about meeting Ed?
I was nervous just in the early times; once I understood he was counting on me considering me a friend all was much more familiar.
For sure, when attending official events (conventions, tv shows or movies) tension was higher; later, also thanks to the presence of my fellow ISOSHADO friends (to name a few: Paolo Brandimarte and Marco Raffa who first contributed to such events), tension eased.
What difficulties in language or culture if any did you encounter in your relationship with Ed ? Was he like you imagined he'd be when you first met him? Did anything about encountering him in real life as opposed to watching him portray Straker surprise you?
As said earlier, I was already prepared to meet an extremely kind and open fellow; moreover, it has to be considered that the relationship between a "fan" and his "idol" generally turns out to be pretty easy; in addition, if that "fan" can be of help -even in a small way- to the "idol", things get even easier and their relationship improves. Anyway, this was the approach that I and ISOSHADO had and still have towards all UFO key players as we are all very happy to contribute -even in a small way- to fulfill their requests.
As you two began to get to know one another, did he speak about both the joys and the disadvantages of being recognized as Commander Straker? Ed is among the few entertainers who sincerely appreciated and went out of his way to accommodate fans.
I recall that Ed Bishop told me that after UFO he went back to the United States. As he had no acting job at that time, he found a job as decorator. One day, he was due to put wallpaper in a kitchen and all of a sudden all the family came in to watch UFO on tv.
Ed Bishop has always been extremely open to the fans and I can say that in none of the dozens of events he attended (in Italy or in England) he ever displeased even the most bothering fan.
Did he ever discuss how he approached the role of Straker from an performer's point of view, or any of his roles in various media? Did he speak about his training?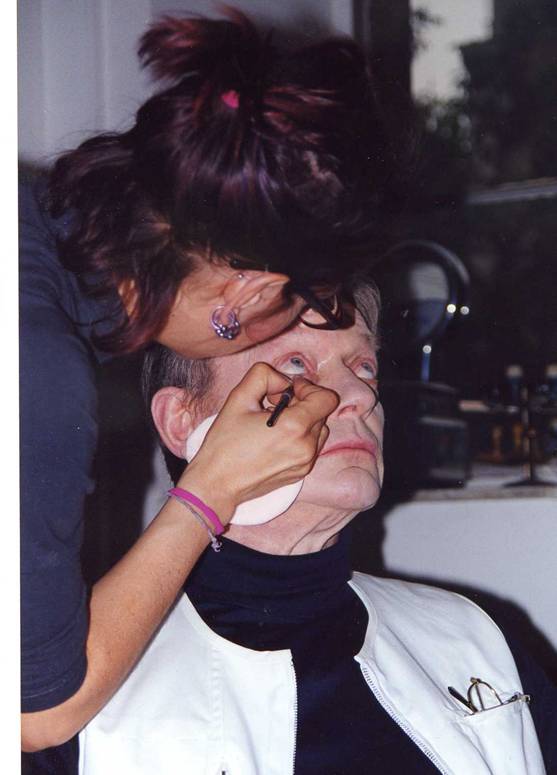 Ed Bishop was a professional actor of enormous talent and his attitude to cover various roles was directly connected to his assessing the part and perform it meticulously. I recall he mentioned several times of his acting studies at LAMDA but at the moment I do not have specific memories.
Here is an anecdote: we were in Genova to shoot the 500 movie, Ed Bishop learned his full part out of a 10-page script in about one hour. On the first take, the director was amazed to say "cut and print" as there was no need to repeat the take.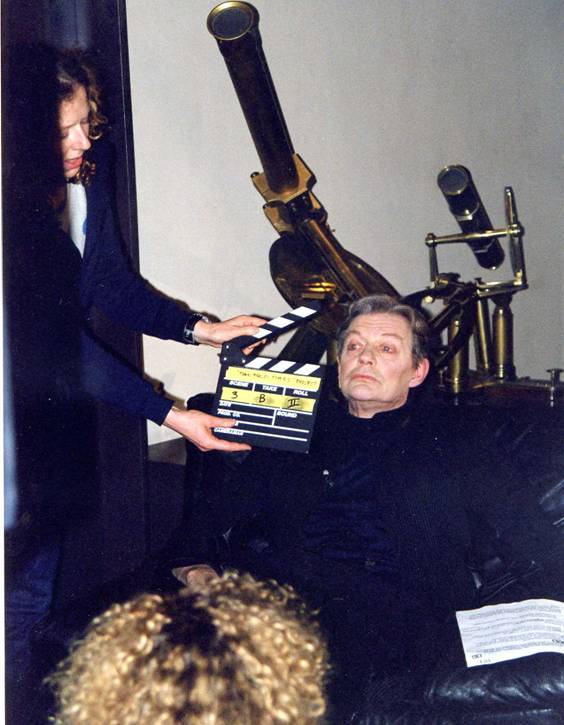 Ed had a wonderful sense of humor, he once called the staff of ISOSHADO aliens! Can you give some examples of other funny incidents with him?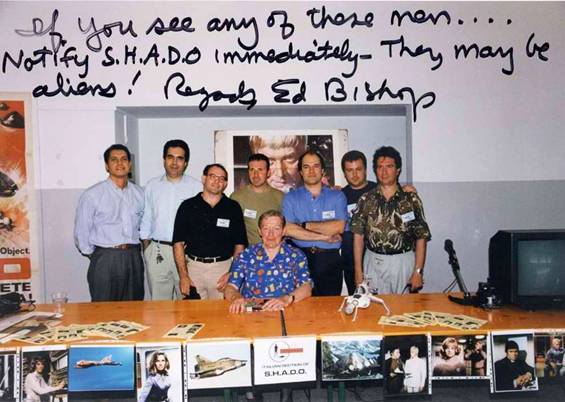 I and my fellow ISOSHADO friends recall to have experienced many hilarious events together with Ed Bishop. He showed several times his talent in answering awkward and silly questions such as "how did Sky One re-connected with Skydiver?" or "why does the Interceptor had just one missile?"... He always had an answer ready even if later I'd be privately asked, in laughter: "did my answer make sense?"
An eponymous event happened during a convention when Ed Bishop was constantly harassed by an almost "mentally insane" fan. I still remember breakfast on the second day of the convention, when Ed Bishop entered the breakfast room: as soon as he noticed the presence of that fan he started hiding, crouched behind the central tall table covered with breakfast food and a plant, turning around the table to keep hiding from the guy.
Those were indeed happy times...
Ed complained about having to get his hair cut and colored for Straker, but he also said in one interview he had running battles with the makeup department over the excessive eye liner that became a part of Straker's distinct look. Did he ever say why they insisted on doing his makeup that way? He had such dominant blue eyes, I always felt it was like gilding the lily!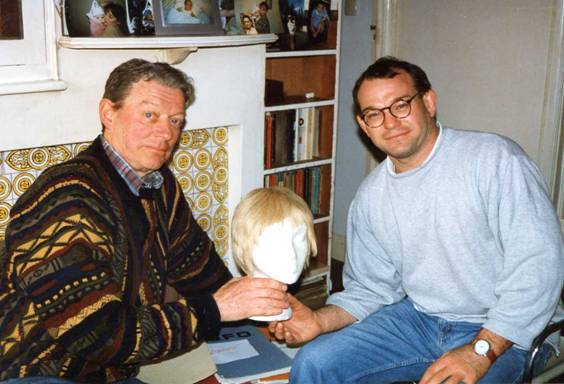 Yes, it is know that, after the first UFO episodes, he was given two blond wigs instead of keeping on dyeing Ed Bishop's hair.
About the eye liner, I recall Ed Bishop used to comment on it while signing his portrait photos from UFO to fans, but I do not recall his comments. Sorry.
Do you think from knowing Ed well that it was difficult for him as a person who seemed to both be gracious and open with the fans, yet at the same time remain a private individual? How did Ed seem to adjust to some of the hazards of being exposed first hand to a often unpredictable public?
Ed Bishop was a true gentleman and his "aplomb" was always useful in unpredictable situations.
What was his initial reaction to seeing the wide variety of UFO material you owned?
He probably thought to be relating with a mad/crazy collector, probably the craziest collector he had met so far even if, once friends, he widely contributed to the ISOSHADO collection.
One of the things that always brings me back to the ISOSHADO site is the array of photographs of a candid nature which were taken of Ed. How did he react to constantly being photographed, or was he an ideal photographic subject, since he was so used to being in front of a camera?
You're right, Amelia, we have probably gone beyond the line with the thousands of photos we took of Ed Bishop. Anyway, his availability and openness allowed us to.
Did he seem self-conscious about how he might appear in a casual setting when photos were taken of him over the years?
He probably did not care as our meetings were always very informal.
He couldn't hide under theatrical makeup, yet he often seemed to me to be totally at ease and in charge of any given situation. Would you agree with that depiction of Ed after knowing him for such a long, long time?
Yes, I agree with your description, I never saw him lose control of the situation.
As you got to know him, did he speak about his past? Did he ever discuss with you his life changing decision to go from business into theater and eventually win the Fulbright scholarship which brought him to England?
Ed Bishop was often asked in early conventions about his past and education. Having attended such events I did not think to inquire further on the subject.
Ed had a brother which I believe may have resided in the States at one time, did you ever meet or talk to his brother?
At Ed Bishop's funeral we met with his brother, Richard. On that sad occasion we also met the son that Ed Bishop had with his first wife.
Did Ed ever speak privately about what seemed to be another prominent change in his life, going from having the ambition in his youth to be a priest to finally winding up as an atheist as an adult? Might the agony of losing his son Daniel have led to this turnaround? It had to be beyond devastating for him to lose his son, and the irony is that Straker too lost his only son. Did he confide in you about this and if so can you tell us something about it?
Ed Bishop has never personally told me about his ambition to be a priest and I consider that any comments on Daniel's death should be treated as strictly personal.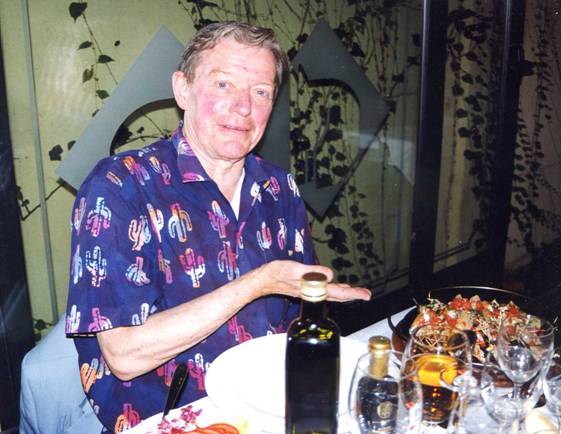 Your relationship with Ed often took you to England where you also photographed him at his house. What was that like for you? Was he a good host? You shared meals with him, what did he enjoy eating besides spaghetti? I know he appreciated spaghetti as well as a delicious croissant because of his photographs on the ISOSHADO site. Did he ever cook for you? I was told in confidence he wasn't much of a housekeeper. Chuckle. Not that he needed to be, with his talent. What was it like to be at his home, can you tell us about it?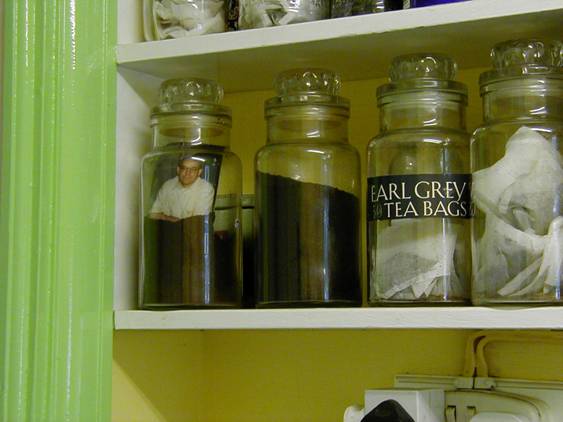 Every time I was hosted in Lagora I lived memorable days. Ed Bishop was a fantastic host but my days there would still be fantastic if he'd been the most worst of hosts as I was in the house of my "idol" who was hosting me.
He loved the Italian cuisine, pasta, often coupled with fish, grilled fish, and he also liked the Italian wine, even if I never saw him exceed in drinking.
He used to enjoy Italian coffee and in the kitchen he had two jars: one with British coffee and one with the Italian one: to differentiate the two jars he had put a picture of mine inside.
Ed Bishop was a lover of both Italian (short) and American (long) coffee. Was depending on the situation. But he was loving a lot of different foods and drinks in Italy but I never saw him drunk or having too much food. He was moderate.
At one time Ed was described as not drinking, then of course we heard from him on the regrettable incident where he drank a few pints over the limit, and as a result lost his license to drive in England. Did he mention how he coped with that?
I had heard about this incident but Ed Bishop never spoke to me of it, nor did I want to inquire further.
Around the time UFO ended, Ed was quoted in an interview as being completely devoted to his daughters and son, his affection for them was so obvious from the words he chose. As most of his fans know, he was an activist and a humanitarian, (following in his late son Daniel's footsteps.) However, more any other real life role he might have played, he seemed to most enjoy being a father. Did he often speak of his family when he visited Italy?
The period of my acquaintance with Ed Bishop coincided with the crisis which led to his second divorce, so I had the possibility to know his third wife, Jane. At that time I also met Ed Bishop's daughters Jessica, Georgina and Serina with whom I am still in touch. Ed Bishop mentioned from time to time bits of life with his family but we never got deep into it.
Overall, time for talks on personal topics was very limited: we met for conventions, events, shows etc. crowded with fans and questions and photos and commentaries, so a few time remained for other discussions.
There's an incredibly touching (at least for me as a fan of his work and later an admirer of his activism) photograph that I copied then lost from the ISOSHADO site in which he's gently touching a child's dark curls. It was a dinner engagement in Italy. I apologize for not being able to be more specific about it. It showed how much he liked children, and it showed a private side the fans rarely saw.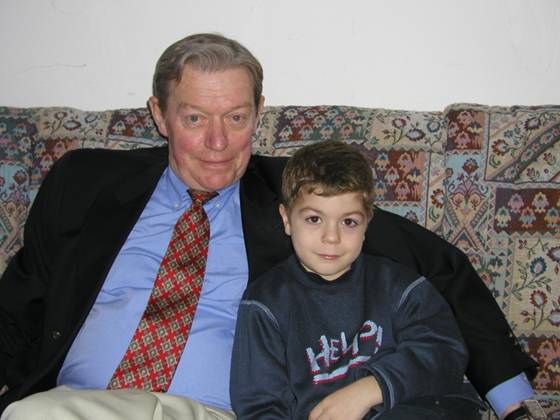 Yes, that's true. Ed Bishop was very gentle with kids. He has for sure been a good father to his children.
Out of your close relationship with the man we will always remember as Commander Straker, you were recently given the original Straker wristwatch for safekeeping by his surviving family. The Straker watch was to go eventually to Ed's oldest grandson. Can you tell us how that happened and more about your feelings about it?
There has been a misunderstanding. I do not own the watch.
Ed Bishop's daughters have decided to give it to me for an undefined period of time, but the property remains of the Bishop family.
Of course we have seen the identical Certina wristwatch you already own, but to touch the iconic Straker watch, seen closely in Time Lash must be an incredible thrill as well as being an honor. Please tell us about it. Can you describe it in further detail now that you own it?
Ed Bishop was very pleased with the gift he got from Gerry, Sylvia and Reg (Hill). He did not wear it for some time after UFO so the mechanism did not work anymore. He then told me that he had found a craftsman to repair it after many searches. After that, he wore it regularly and used to show it during the various conventions. Often, during the ISOSHADO dinners or lunches he gave it to the fans for them to take close pictures and appreciate the item.
I personally do not wear it but I care to charge it each 2 or 3 weeks to avoid it blocks again.
What's something you discovered about Ed over the time that you knew him that you think might surprise his fans?
Ed Bishop was a generous and marvellous person. There are no secrets or a dark side I can tell of but I like to remember when I witnessed him sharing his cat's food with a fox that wandered in his garden every night.
Did Ed speak to you of his following in his late son's footsteps by political activism? I found out much later that he'd stated he was liberal, and I share that political leaning too, and I became more involved in politics after his death to honor him. He ingeniously made use of his fine skills as an actor to portray Bush when Bush met with then Prime Minister Blair, and to imitate Dictator Augusto Pinoche as part of his support for the Campaign Against the Arms Trade. As his friend, Roger Harding said at Ed's funeral, https://www.shadolibrary.org/actors/bishop/rogerharding.shtml one of Ed's qualities was the sheer nerve of the man. Did you have an opportunity to observe that for yourself? Can you describe it?
We often exchanged our political views and we always were on the same wavelength but, as already mentioned, time was always very limited and forced us to take care of the scheduled events.
I do keep a nice postcard that Ed Bishop sent me during his last trip to Cuba.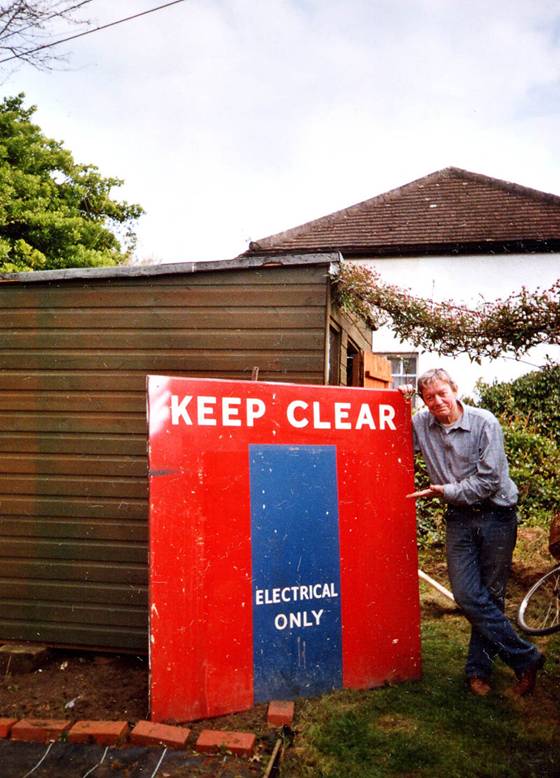 Now on this occasion touched by sadness, we enter into a very difficult subject. That being Ed's illness and death.
When he died, I had been so involved with running an e-mail list for him that facing his loss was a personal crisis for me. He had been like part of my family even though I only spoke to him via e-mail through a second party. Through my sources, I presented information about Ed to his fans. Often I'd learn something private about Ed but I was ordered not to reveal it until later. For instance, his demonstrating against the Iran War. Ed did not want any fans finding out about it in fear that they'd interfere with his activity. Indeed, Ed on at least one other occasion I specifically knew of had been forced to deal with fans who invaded his privacy. Therefore, I pretty much did what I was told. I read all I could about what was released by the press when he died, and it occurred to me that there was something they were not saying, and I needed closure. So maybe at the time I had a little of Ed's nerve which Roger Harding says was so much a part of the man who embodied the brilliant and complex, enigmatic Commander Straker.
Which leads me straight to you and to Teresa. I contacted you and begged you to convince Ed's family and close friends to tell the fans why he had died. I'll always be indebted to you and to them, for even in grief they were gracious enough to allow me to say what kind of man Ed really was. He'd been fighting leukemia for twelve years. He lived his life the way he wanted, he still attended conventions, still did work, he lived life to the fullest. He had to have had enormous courage to go on. It always hurts me to know he openly spoke about being a physical coward, yet he had to have gone through so many painful medical treatment and tests due to the disease.
Please, if it doesn't cause you too much distress, can you tell me about the day you found out that Ed had passed away, and the shock you must have felt? Because all of us who loved Ed in our own way must indeed miss and grieve for him, but not like his family and personal friends such as you and Teresa.
Now, all these years later, how have you coped with his loss? What helps you to endure losing such a dear, and talented friend?
About this last topic, I'd rather not speak in details on the events of that sad day. The death of someone you love, even if not part of your family, is always devastating. Getting into detail would bring me back to the sadness I felt 7 years ago when, on the very same day and about one hour later, I was also told of Mike Billington's death.
I do miss Ed's presence, calls, e-mails and letters and, for sure, living in a place full of his photos does not help forgetting; but if I would remove them, I am sure I'll put them up again the following day.
Paolo, Teresa, thank you both ever so much from my heart for sharing your experiences with us. My personal gratitude to Ed's family for allowing me to have closure at a most painful time for them. I will never forget it. We all will remember Commander Ed Straker and the person who gave him life, Ed Bishop. Ed was both a consummate professional and more simply a most ordinary yet extraordinary man. May Ed rest in peace, and it is my hope he is reunited with his beloved Daniel.
Grazie a te Paolo and Teresa. Amelia
Grazie a te Amelia. Un abbraccio e ciao.
(Paolo said to me: Thanks to you, Amelia. A hug and bye.)
---
Librarian's note: Many thanks to Amelia Rodgers and her husband Ed for contacting Mr. Malaguti and conducting this interview with him as well as thanks to Nancy Hickman for her invaluable last minute assistance. We also thank Mr. Bishop's family for allowing new and personal material to be published here.
More of Paolo's photos can be seen at Album 7 and Album 8