Other Mementos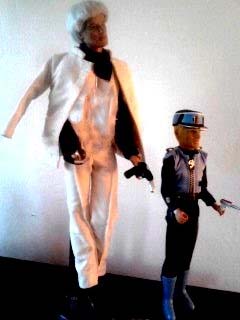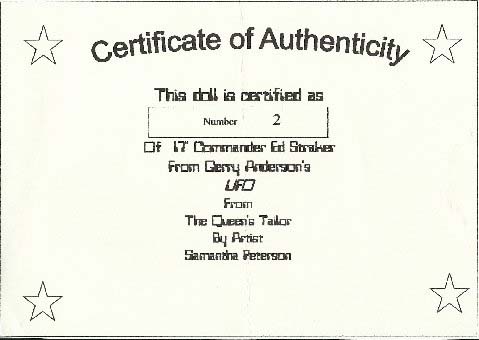 The Straker doll was created by the late Samantha Peterson, the Queen's Tailor - doll costumer extraordinare. The 12" Straker doll came complete with Straker's pistol and hand sewn clothing, the jumpsuit, Nehru jacket, two turtlenecks, hand crafted ankle boots, cigar, and authentically recreated down to the pattern on Straker's socks from Kill Straker. It was commissioned especially for Amelia, and was number 2 in a series of 2.
Samantha Peterson was known to many fandoms for her beautiful and meticulously crafted doll-size reproductions of such things as Padme's (Star Wars) ornate clothing and hair-dressing. These were (and are) much prized by collectors. Regretably, Samantha lost per battle with cancer in 2007.
The Captain Blue doll was a gift to Amelia from her close friend Helen Weber. It was imported from England, and speaks with Ed Bishop's voice portraying Captain Blue, saying "Colonel White, Captain Scarlet is badly hurt", "SIG I'm going to land on the motorway", "The Mysterons have got Destiny Angel".