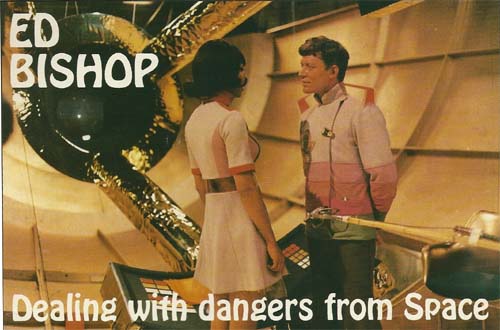 TVZone
Interviewer: Stuart Clark - July 1992, Issue 32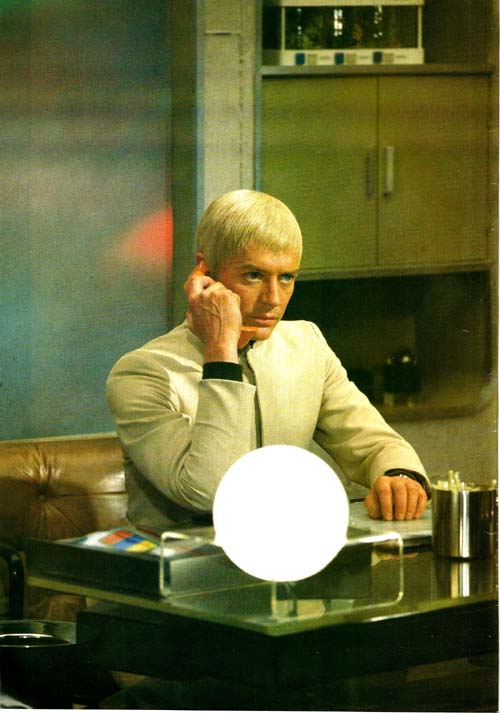 Ed Bishop is possessed of one of the most distinctive voices in acting circles. His rich, American accent has provided him with much radio and voice-over work. When that voice is joined by the man himself on screen the results can be considerable. As they were in the Andersons' series, UFO.
"I had worked for Gerry prior to UFO where I did the voice of Captain Blue in Captain Scarlet and The Mysterons," he explains, "I had just gone with a new agent and either Sylvia or Gerry had phoned them up looking for a black actor named Cy Grant. Someone at my agent's office said, 'Look we have just got this new American actor, name of Edward Bishop and would you like to meet him?' They said, 'Yes'. I went out and met them and I got the job. That was my start with Gerry."
UFO was the first all live-action series the Anderson's had produced. Coming from a production company so well known for puppet series, was the series hampered in any way?
"I don't think it hampered it but we did get a lot of stick!" Bishop says with some consideration. "We had some people on the set who would take the Michael out of the situation. One guy asked my if I was supposed to have strings! I think the critics were able to adjust, so I do not think that it hampered the series. Gerry and Sylvia were both strong minded and knew what they wanted. They had a vision, went after it and to a large part they succeeded."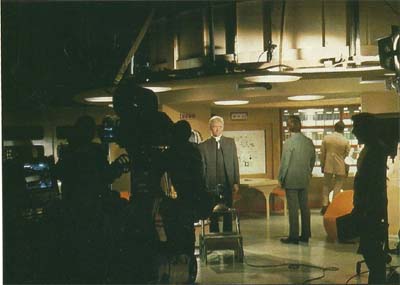 That vision included Commander Ed Straker as played by Ed Bishop; a part that was tailor made? "I think that Gerry had been thinking of me all along from what I have learned subsequently. He was thinking that I would be involved in the particular character although the format for the show was not set in concrete. Tony Barwick had started writing scripts when the format was still loose." Again, Bishop talks from a carefully considered point of view, "I think that was probably a mistake because as I understand from reading Gene Roddenberry's book before they did any production, casting or anything on the set for the Star Trek series they had the format and characters pretty much nailed down. Gerry, I think, was a little loose and just had this big idea that Straker would be the boss."
Although the format was loose in those early days it did not lead to the actors having much input into their characters.
"I think that was lacking in the early days. The series was exploratory and I think we used a couple of episodes, certainly Identified, in that exploratory process. With hindsight it was a luxury we could not really have afforded. If we had gone in prepared and established where we were going to go, it may have knocked a little spontaneity out of it, but it would have prepared us and the audience for what was to come. I'll give you an example, there was no episodic continuity, only a suggested running order for the episodes and I think that lack of preparation was not an asset."
As the series progresses, however, there were specific attempts to embody Straker with character. Especially one episode in which Straker's son is knocked down. To fly in the medication the boy needs to live, Straker diverts a SHADO craft. When the aliens launch an attack, he allows the craft to be used in counter active measures despite the fact that it could, and in fact does, cost the life of his son. Bishop remembers it well.
"That's A Question of Priorities, a lot of people pick that one out. It is very illustrative of the character of Straker because at one point someone asks him if he did right in diverting this spaceship off to fight the aliens instead of using it to help his son. Straker says, 'Yes, it was the correct decision' which indicates he is a pretty dedicated guy. A dedication far and above what one would usually expect."
Favourites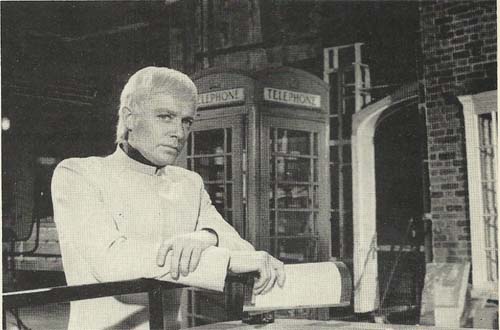 Ed Bishop then moved on to other favourite UFO episodes. "Sub Smash I liked; it was a typical thing of guys trapped and meeting their doom so their personalities come to the fore. I like Timelash, the one with Patrick Allen and the cars - that was very imaginative. I think those three and Confetti Check, of course, the one with the flashbacks to how everything started, Straker's relationship with his wife and all that. Those four out of the twenty-six readily surface to mind."
The overall quality of the show was high and it was widely thought that it would survive to a second season. In fact revamping and preparation was in progress when the decision to produce a brand new series based around the new Moonbase design was taken. The result was Space 1999.
"I knew we can come very very close to it and that they had been doing some advanced work on it. I was in Los Angeles and had heard from Gerry and Sylvia that they were getting close to doing it. What actually happened in the board room, behind the scenes, I was not party to that.
"I quite candidly think that if we had made another series of, say thirteen episodes, that we really would have pushed through the sound barrier! I wouldn't say that we would still be making them, but I think we could have made as many as Star Trek. When series are on and running, writers, actors, and directors all learn as the thing is going on. The more you can hang on the more people respond to it, they get used to it."
In the event, however, the series remained subsonic and finished after twenty-six shows.
Fans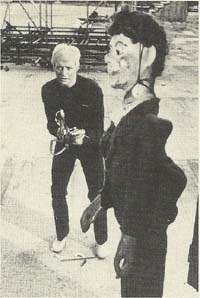 The reaction and fan response is something the Ed Bishop still finds incredible. "I get recognized more than I think I should. A guy stopped me just recently in the street and said, 'You're Ed Bishop!' and I said, 'I know'. I am surprised, but something like Walt Disney says he has a new audience every seven years - I think Science Fiction is like that. It does not date and even if it does, like Flash Gordon, it becomes a cult thing. So it's onto a winner whereas westerns and detective stories do date; this genre just seems to go on and on."
Meeting fans is something Bishop continues to do on a regular basis at conventions. "I enjoy going to conventions, I get to as many as I can attend. I returned from Australia about six months ago and there is quite an enthusiastic response to Gerry's work down there. I loved Australia, it's a wonderful country full of wonderful people."
Long before joining SHADO, Ed Bishop had been in command of a doomed expedition in series Out of the Unknown's episode Beach Head. Mention of this old tale causes the actor to react with pleasant surprise.
"Oh yeah! That was way back! [1969] Great Scott! That was a wonderful story for BBC television and had a wonderful director, James Jones. The Captain of this spaceship goes bananas, sort of like The Caine Mutiny, and we get stranded.
"I remember one scene where all the guys in the crew had come up and given me this petition, and this Captain I was playing was insane, so they gave me this petition on a big sheet of paper. They all sat round in a circle talking to me and I thought I had to do something so I slowly made this airplane with the paper. At the end of the scene the director said, 'That's great, Eddy!' After all nothing's duller than nine guys sitting around talking and so I just sat there folding a paper airplane and at the end of the scene when they say, 'Well, Captain what do you say?' I just threw the airplane out, it circled, hit the deck and that was the end of the scene. I'm particularly fond of that scene, but that was such a long time ago that I'm not sure that a master would even remain of it. It was shot at the studios which just closed, Lime Grove."
One of the latest pieces of work of Ed Bishop is in The Young Indiana Jones Chronicles.
"That was just a regular job that came through my agent, I met the director and went down to Spain for a week; sweated my butt off! It was so hot it was unbelievable! I was playing a World War I guy, an old sergeant in this itchy wool costume! I nearly passed out! It was only a two day part but it was fun. I was a tobacco chewing and spitting guy - a real character part, and I enjoyed it. Also I had never been to Spain and I liked it."
Unfortunately he does not survive to the end of the episode. "One always hopes when you do a series that they will call you back to reprise the role. When a bullet goes through you the chances of that are pretty minimal however!"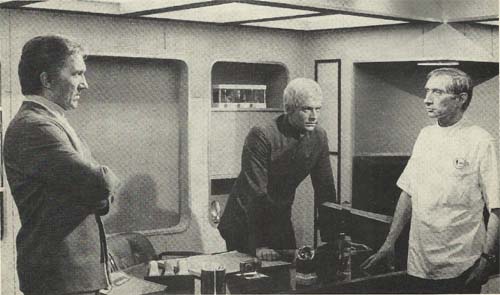 Photos from top: A behind the scenes look at the recording of Out Of The Unknown episode Beach Head.
Ed Straker, driving force of SHADO photo ©ITC
Ed Bishop during the filming of UFO. photo ©ITC
UFO Ed Straker, head of a film studio the the defence of Earth. photo ©ITC
UFO Timelash was one of Ed Bishop's favourite stories. photo ©ITC
UFO part of the SHADO team - Straker's right hand man Colonel Alec Freeman (on the left and played by George Sewell) and Dr. Doug Jackson (Vladek Sheybal). photo ©ITC
---