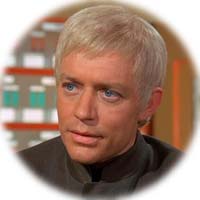 Commander Straker - History 2




A second speculative career history for Ed Straker:
© 2011 Deborah Rorabaugh.
Note: This is a history based on the idea that Gerry Anderson and his crew were not utterly clueless when putting together Straker's uniform for the pilot episode Identified and that the medal array Straker is shown wearing actually has some validity. Unlike the uniform requirements and related military information in some countries, the United States Government has generally been open and forthright in publishing information concerning medals and uniforming and other regulations so there is little excuse even in 1969 for not checking facts with the USAF. The medal array seen in Identified suits Ed Bishop's actual age at the time of filming in 1970. This also makes the character at least 10 years older than the actor playing him. However, if we assume that Straker was blessed with excellent genetics and health, he could easily appear much younger than his chronological age. Having him older also fits with certain comments Foster made in Kill Straker.
Also see: Commander Straker - History 1
Born: 1932, Boston, Massachusetts
Attended a highly ranked state university (possibly University of Massachusetts) and graduated with a Bachelor of Science in astrophysics.
To earn the Good Conduct medal we see in the array, he needed to have joined the Air Force as an enlisted man at the time of his college graduation. This would be the case if he graduated with his B.S. at 19 or 20 and opted to enlist and take officer's training later.1
Commissioned: Second Lieutenant - 1953 Age: 21. (This is the legal minimum age for being commissioned as an officer in the US military.)
Korean Service: 30 to 60 days minimum. (This is needed to get the Korean service and the UN service medals indicated in the ribbon array. These medals were awarded for duty between 27 June 1950 and 27 July 1954 and required 30 consecutive days or 60 non-consecutive days assigned, attached, or mobilized to units operating or serving in the designated area.) This service could have been as an enlisted man (1950-1952), or as an officer (1953-1954). Since there is also a Purple Heart in the array, it is likely he was injured on duty but not seriously enough to impede his advancement in any way. As one of the medals in both the Identified and Confetti Check A-Okay arrays is a combat medal, this is most likely place that medal was earned.s
After a year on active duty as an officer, applies for Pilot Training.
1954 - Pilot training (49 weeks) Edwards AFB. Served as an operational pilot and instructor in various squadrons in the U.S. for 3 years.
First Lieutenant - 1955 (age 23).
Captain - 1957 (age 25). May have been assigned teaching duties at the Air Force Academy in physics.
1958-60 Massachusetts Institute of Technology, Lunar research project (as stated in Exposed). This is about the right length of time for a Master's Program, as well. This project was most likely a combined USAF/NASA study in preparation for the Lunar landings.
1959, Test Pilot school, Edwards AFB. The early astronauts were required to first be test pilots as space craft are strictly experimental. Test pilot school is 6 months. Aerospace pilot school is another 6 months.
Option One: Although trained for aerospace, he is not selected.
Note: Unless we assume the Missileman badge is meant to be an astronaut badge there is nothing in the Identified array to indicate NASA service. In this case a lateral move to Military Intelligence would be logical.
1962-1963 - Military Intelligence.
Option Two: Assuming the Missileman badge is meant to be an astronaut badge and Straker was selected at the first opportunity.
1962 - Chosen by NASA for the Gemini program. (OR chosen by the USAF for a Manned Orbiting Laboratory mission - assuming that program had not been canceled.)
Note: in the real world all pilots chosen for the US astronaut program were married. In fact, the US military preferred all their senior officers to be married. This would imply that Straker was, in fact, married at the time he was selected for either NASA or the MOL. Given that Straker gets married in 1970 to Mary, and recognizing NASA's aversion at the time to divorce, it is probably safe to assume that Straker's first marriage ended with his wife's death.2
Major - 1963. Speculations by other writers put Straker and Collins3 on a space mission sometime in 1964-'67 where they spotted a UFO. On reporting the incident, Straker was 'recruited' to join James Henderson's team in Air Force Intelligence on a project dealing with UFOs. Some writers speculate that it was Straker who approached and convinced Henderson of the UFO threat.4
1964 - Assigned as an assistant5 to General James L. Henderson - Peterson AFB, & Pentagon. (Peterson is the home of the NORAD Combat Operations center in the Cheyenne Mountain complex. It is also home to the Aerospace Defense Command.) It is a reasonable assumption that Henderson was with NORAD and/or ADC (now SPACECOM) while putting together the argument and plans for SHADO.
Note: Historically, US service personnel who did become members of the Astronaut Corps never returned to active duty in their home services. So for Straker to go from US astronaut to military intelligence would be extraordinarily noteworthy - certainly something that Foster would have discovered while checking into Straker's background during Exposed, unless the information given him had been deliberately and severely edited.
Lieutenant Colonel - 1968 (age 36)
At some point, Straker needed to have spent time at either the National War College or the Air War College - 10 months of school.
Straker promoted to Colonel in 1970 (age 38). Was involved in Rolls Royce 'accident' that caused the death of the British Defense Minister who was meeting with Henderson and Straker. [Straker was a full colonel, Henderson a Lieutenant General (3 stars)].
Note: while this makes Straker the youngest full Colonel in USAF history by several years, he is not so young as to make people wonder too much about it.
Late 1970 - early '71: Straker makes the presentation promoting SHADO to the United Nations Special Committee on Aerospace. He is subsequently given the job of Commander-in-Chief of Operations, United Nations International Astrophysical Commission Operational Unit known as SHADO. This assignment was at the insistence of the French delegate Duval and was given unanimous approval. (Given in Confetti-Check A-Okay)
There is some suspicion that the assignment was an ass-covering device on the part of the special committee. If Straker, at 38 or so, could get SHADO up and running in the time frame given, well and good and they could all take credit for their foresight. If he couldn't, they could blame him, and cut their losses.
Awards & Medals
Above: Medal array from
Identified
Nit-picker's notes: Requirements for the Master Pilot rating and the Command Pilot badge are: 15 years as rated pilot, and permanent award of senior pilot rating, and 3000 total hours or 2300 hours primary and instructor flight, or 144 months Operational Flying Duty (OFDA). The above scenario allows him to just qualify for this rating and badge. Also, this is clearly not the astronaut's badge that he would have been entitled to wear as an astronaut.
*The array shows the Purple Heart ribbon in the wrong place. (Assuming that the ribbon in question is a Purple Heart. The color fidelity on the capture is not good and the color on the ribbon actually looks black rather than purple, but there does not appear to be another USAF ribbon with the same colors and pattern.)
**The Air Force Good Conduct medal is awarded to enlisted personnel only. This medal indicates that Straker joined the Air Force as an enlisted man, most likely because he graduated college well before turning 21.
Also, the Missileman badge Straker wears in Identified is in the wrong position - it should be on his left breast pocket beneath the ribbon array. (This same issue is also seen on Ross's uniform [Roy Thinnes] in Doppelgänger, giving rise to the notion that the Missileman badge was supposed to represent astronaut corps, rather than missile training.) This badge appears in the proper place during one scene in Confetti Check A-Okay, otherwise he is not seen wearing this badge in that episode.
sThe Silver Star is a combat medal given for gallantry in action or military operations against enemies of the United States. This is also the medal usually awarded to combat pilots who have made ace: 'having five or more confirmed aerial kills which entails the pilot and, in multi-seat fighters, the weapons system officer or radar intercept officer, intentionally and successfully risking his life multiple times under combat conditions and emerging victorious.' Having this medal in his medal array is an unequivocal statement that Straker saw combat in non-covert and non-classified action. Had this medal been award for action relating to the MOL, it would have been suppressed for security reasons and it would not appear on his uniform.
Awards & Medals

Above: Medal array from 'Confetti Check A-Okay'
Nit-picker's notes: *As in the Identified array, this array shows the Purple Heart ribbon in the wrong place. The Air Reserve Forces Commendation is only awarded to Reserve personnel. Also as in the Identified array: Requirements for the Master Pilot rating are: 15 years as rated pilot, and permanent award of senior pilot rating, and 3000 total hours or 2300 hours primary and instructor flight, or 144 months Operational Flying Duty (OFDA).
**This appears to be the American Defense Service ribbon which was awarded for service between September 8, 1939 and December 7, 1941. There also appears to be Philippine Liberation ribbon which was awarded by the Philippine government to allied military personnel serving between October 17, 1944 and September 2, 1945 as well as a European-African-Middle Eastern Campaign ribbon awarded for service in those WWII military theaters between December 7, 1941 and March 2, 1946.
***The Korea Service medal was awarded for services in the Far East between June 27, 1950 and July 27, 1954.
Several are unidentifiable or make no sense.