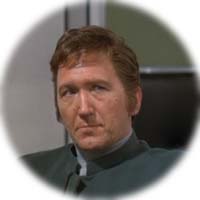 Colonel Alec Freeman
A tentative history of Alec E. Freeman - version 2
© 2011 Deborah Rorabaugh.
Note: This is a speculative career history and in no way represented as being 'canon', although it does try to make sense of what little we are given concerning Alec Freeman's history.
This version of Freeman's history goes with Straker History 2 and assumes that Freeman is 5 years older than Straker and British. This version makes the character 7 years older than the actor.
Also see: Colonel Freeman - History 1
Born in London in 1927.
1943 - Joined the RAF at 16 as an airman. However, his leadership and piloting abilities gained him a promotion to commissioned officer by the end of the war.
Flying Officer (OF-2)- 1947
Korean Service 1950-51 with No. 1913 Flight flying the Auster AOP6. These pilots flew an average of 500 sorties a month spotting for UN artillery and flying reconnaissance missions, operating from primitive forward airstrips and spending as much as three hours flying over enemy positions.
Oct 31 to Nov 7, 1956 - Operation Musketeer, the Suez Crisis - RAF Canberra and Valiant bombers flying from Malta and Cyprus, in conjunction with French Air Force aircraft, attacked airfields in the Canal Zone.
Flight Lieutenant (OF-3) - 1952
Squadron Leader (OF-4) - 1957 - would have taken Intermediate Command & Staff Course (Air) (an 8 week course) prior to promotion to wg cdr. Deployment to Indonesia. (At attaining the rank of Squadron Leader, he would be expected to remain in the service until 55.)
Wing Commander (OF-5) - 1962
1961 - assigned to Air Force Intelligence and/or MI5.
Group Captain (OF-6) - 1967
In 1970/71 Freeman was recruited by Ed Straker to join the newly chartered SHADO. His rank within SHADO became Colonel, as SHADO had chosen to use the Army rank system. He is currently on permanent off-station assignment with SHADO, but this information is classified. He will be able to retire from the RAF in 1982.
Input concerning Freeman's probable history would be most welcome.
Freeman backstory according to 'Episode Guides' - no author or other attribution given.