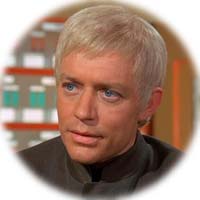 Johannen Edward Straker
Author's Notes
© Deborah Rorabaugh 1997, 2011
A variation of this was first published to the FAB-UFO mailing list.
Personal
Born: January 14, 1938, Boston, Massachusetts (Natal Horoscope)
Full name: Johannen Edward Straker1 - after his paternal grandfather and his father's MIA older brother. Straker rarely uses his legal first name, preferring to go by 'Ed' and occasionally 'Edward'.
Parents: Barnett (Barry) Thomas Straker and Charlotte Phoebe Hillsboro
Barry attended the United States Military Academy at West Point with James L. Henderson. Charlotte was the youngest daughter of a British diplomat stationed in the U.S., went to college with Amanda Mayland (the future Mrs. James Henderson) at Vassar. Barry and Charlotte married during June week, 1933. He was 22, she was 19.) Barry and Henderson were best men at each other's weddings. Henderson and his wife are Ed Straker's godparents.
Barry served with served with distinction as a bomber pilot with the 509th Composite Group during WWII, Pacific theater. Following his return from overseas duty (November 1945), USAAF/USAF Colonel Barry Straker was assigned to Roswell Air Base, Roswell NM. While there, he and his son witnessed what would later be termed 'the Roswell Incident' - the crash of a craft that was 'not of this Earth' (July 4, 1947). (Note: Jan 13, 1948 Roswell Air Base was renamed Walker Air Force Base after Congressional Medal of Honor awardee General Kenneth Newton Walker.)
Charlotte Straker died of an inoperable benign brain tumor when Ed was 10. Barry took refuge in alcohol and fostered both Ed and his older sister, Barbara Leigh, to relatives - Ed going to Charlotte's parents in Boston. Barry's alcohol abuse didn't help his career. He retired early as a colonel. (A family history of alcohol abuse explains Straker's aversion to alcohol and aversion to loss of control very nicely.) Ed's grandparents arranged and paid for his schooling at the Staunton Military Academy, Staunton, Virginia, where he graduated with honors.
Education:
1940 - 1945 Public School, Boston MA (K-4 - midyear transfer)
1946 - 1948 Public School, Roswell NM (4-6)
1948 - 1950 Public School, Boston MA (7-8) Boston with grandparents.
1950 - 1954 Staunton Military Academy (9-12) (Staunton was a very highly regarded military boy's school in the 50's and 60's.)
1954 - 1958 University of Massachusetts, Graduated with honors at 20, Majors: Physics, Astronomy, aeronautical engineering, AFROTC.
Straker has blond hair and blue eyes that appear gray under some lights. He is 5'10" and weighs 165 lbs.
He prefers not to drink alcohol, but will occasionally imbibe if the occasion warrants it. His preferred vice is Cuban cigarillos, but he stopped smoking following the 'Time Lash' incident.
Other Personal:
Married Mary Jeanne Oster, daughter of Michael and Rose Oster, on April 15, 1971 following a whirlwind romance. The marriage was fraught with difficulties from the beginning as Straker's appointment to command SHADO came within days of the wedding. Setting up the organization required that he spend long hours at work and security requirements were such that he could not give her reasons. John Straker was born by emergency C-section March 10, 1973. While Mary and Ed attempted to reconcile, the strain of Ed's absences finally led Mary to order him out of their house on Christmas Eve, 1975. When she filed for divorce in 1976 claiming mental cruelty, he agreed to her demands in trade for visitation rights.
John Straker died as a result of a traffic accident on September 29, 1980. Although Straker carries great guilt over his son's death - he allowed the drug that the doctor claimed might save the boy to be delayed - there is no evidence that had the drug arrived on time that it would have changed the outcome.
Military Career
Commissioned United States Air Force: Jan 15, 1959 (age 21) Active duty: March, 1959; (It is my understanding that this puts his date of rank somewhere in Feb 1959) 2nd Lieutenant - First assignment, Vandenberg AFB, SAC
After a year on active duty, applies for Undergraduate Pilot Training. The application and selection process takes about a year.
First Lieutenant - 1960 (age 22).
1961 - Pilot training (49 weeks) Edwards AFB (age 23) Completes pilot training and receives first assignment and goes through follow up training for his assigned aircraft (about 1 year).
As top students at pilot school are often invited to continue as instructors, Straker turned down that offer in favor of going to MIT for study.
Captain - 1962 (age 24)
1962 - 64 Massachusetts Institute of Technology, two years Lunar research. This project was a combined USAF/NASA study in preparation for the Lunar landings.
Major - 1965, Test Pilot school, Edwards AFB.('64-'65) Test pilot school is 6 months. Aerospace pilot school is another 6 months.
Met Craig Collins (RAF) at Aerospace Pilot school and they became close friends.
1966 - A slot at NASA or USAF aerospace not immediately offered, Straker volunteered for combat. Assigned to the 8th Tactical Fighter Wing stationed at Ubon Royal Thai Air Base where he met Alec Freeman who was observing US air operations for the British.
Straker flew 79 missions in the Phantom F4-C. Captured by Viet Cong in September 1966 along with his back-seater Captain Michael Courtland when their plane was brought down by ground fire.
Was rescued (escaped) September 1967 by a Marine patrol. Removed from flight duty due to injuries sustained during his captivity and rescue.
Spent 10 months at the National War College on the recommendation of General James Henderson.
1968 - Air Force Intelligence-Senbeck AFB, Germany, Missile security.
Lieutenant Colonel - 1968 (age 30)
1969 - Assigned to the staff of General James L. Henderson, Angel Project - Peterson AFB, & Pentagon. (Peterson is the home of the NORAD Combat Operations center in the Cheyenne Mountain complex. It also is home to the Aerospace Defense Command.)
Straker promoted to Colonel in 19702 (age 32). Was involved in Rolls Royce 'accident' that caused the death of the British Defense Minister Melvin Talbot who was escorting Henderson and Straker to a meeting with the Prime Minister at Chequers.
At some point between 1968 and 1970, Straker regained his flight rating.
April 19, 1971 Straker makes the presentation promoting SHADO to the United Nations Special Committee on Aerospace. He was subsequently given the job of Commander-in-Chief of Operations, United Nations International Astrophysical Commission Operational Unit known as SHADO. This assignment was at the insistence of the French delegate Duval and was given unanimous approval. (Given in Confetti-Check A-Okay)
There is some suspicion that the assignment was an ass-covering device on the part of the special committee. If Straker, at 33, could get SHADO up and running in the time frame given, well and good and they could all take credit for their foresight. If he couldn't, they could blame him, and cut their losses.
While the most logical place to base SHADO would have been the United States, we know it was based in Great Britain. Within context, this was due to political considerations as well as a fear of an international defense organization with SHADO's projected scope falling under the control of the CIA and/or Majestik.
Harlington-Straker Studios: In the early 70's, the British film industry was in trouble and many film studios previously supported by government programs failed and closed up. We can postulate that Harlington Studios was one that fell into that category, making it an excellent location for SHADO - it was cheap and available. (In the real 1970, the only MAJOR film studios in Britain were Elstree and Pinewood and Elstree was in trouble.) I would postulate that Harlington-Straker Studios/ Productions would have gone over to sound stage and laboratory rental for independent film producers, television and commercial productions in order stay afloat.
As the 70's progressed, their financial position improved along with much of the rest of the industry. We see awards in Straker's studio office. Harlington-Straker Productions had to have had some minor success to have won them.
1974 (thereabouts) With SHADO's basic structure in place, Straker could afford the time to finally get into space - something he'd been trying for since college. As C-in-C of SHADO, he was in a position to force the issue. Also, as C-in-C, it would be advantageous for him to intimately know as many aspects of the operation as possible. (As a senior manager he needs to know enough about every position to step into any crew position and handle it adequately in an emergency. He doesn't need to be expert, but he needs to know enough to be credible. You cannot supervise a person in their job if you don't know what their job is.)
The future: Promotion to Brigadier General - 1983. Although Straker would not be included on USAF promotion lists for the simple reason there are not enough people in a position superior to him (as in none) to evaluate his performance and fill out USAF paperwork, he deserves one.
My own story line here has the senior Air Force member of the Joint Chiefs (David Sachs) being persuaded to present Straker's promotion to POTUS at the behest of his (Sachs') Soviet, French and German counterparts. The promotion was presented to the Senate in closed hearings and was approved with little dissent or fanfare.
1 Story requirements sometimes lead to odd places. In this case, the story Harvest of the Planters required there be serious confusion as to Straker's full legal name to keep Spock from identifying him too quickly. Giving Straker an unusual yet almost familiar first name allowed for there to be multiple levels of misleading and false information in the Enterprise's data on him.
2 In point of fact, the timing of Straker's promotion to Colonel may not allow a legal amount of time-in-grade for this promotion. However, the mechanism of 'frocking'(brevetting) could have allowed him to wear the rank markings he was going to granted shortly, allowing him to function at the rank he needed to be for the assignment he was on. Frocking in the USAF occurs in those rare instances when officers selected for promotion have not yet reached their promotion dates and there is a special situation that justifies the higher rank being given out before the official promotion date - such as positions with significant international involvement. The frocked rank does not include the pay and allowances commensurate with the grade of rank to which frocked, nor does a brevetted (frocked) officer accrue seniority for future promotion consideration. In the case of Straker, it can probably be assumed that since Straker and Henderson were meeting with various heads of states, having Straker hold the rank of full colonel was an indication of how seriously the United States was taking their mission and message.
Many thanks to members of the old FAB-UFO list, especially David Lerda, for their input on Straker's military career.